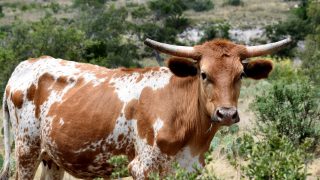 $5,000 Reward for Information Regarding Six Killed and Mutilated Cows in Three Texas Counties
Cows were killed in Madison, Brazos, and Robertson Counties, Texas.
Contact: media@aldf.org
Madison County, TX — The Animal Legal Defense Fund, the nation's preeminent legal advocacy organization for animals, is offering a $5,000 reward for information leading to the arrest and conviction of the person or people responsible for killing and mutilating six cows in three Texas counties this month.
Ranchers found a six-year-old longhorn-cross cow with their tongue completely removed by a "straight, clean cut, with apparent precision" along the jawline where the cow's face was exposed. The cow was lying on their side, dead on the ranchers' property. Scavenging animals did not touch the cow's body, and so it decayed for several weeks before its discovery. This report to the Madison County Sheriff's Office led to law enforcement's discovery of five additional cows — four adults and one yearling — found dead in identical conditions as the longhorn-cross cow, along the TX-OSR highway in Brazos and Robertson counties, approximately 100 miles north of Houston. Two of the cows had their anus and genitalia removed with the same level of precision found in their tongues' removal.
"Regardless of this case's bizarre details, six cows are victims of these crimes," said Animal Legal Defense Fund Managing Attorney Emily Lewis. "Since violent crimes are not always species-specific, we recommend this crime be taken seriously by the entire community. We will do all we can to support law enforcement's search for answers and accountability for this case."
The cows' manner of death is unknown and the incisions were bloodless. For all six cows, law enforcement did not find evidence of struggle, footprints, tire marks, or disturbed grass near the bodies. The cows were from different locations, pastures, and herds.
The Madison County Sheriff's Office is coordinating with other agencies to investigate this case since similar cow deaths and mutilations have occurred throughout the nation in recent years.
If you have information related to this incident, please contact Investigator Foster with the Madison County Sheriff's Office at 936-348-2755.
Join the Animal Legal Defense Fund's email list to stay up to date on lawsuits, legislation, and regulations affecting animals.
Sign Up Now
Related
The U.S. Court of Appeals for the Fourth Circuit handed an important win to plaintiffs in a lawsuit challenging North Carolina's Ag-Gag law, ruling that undercover investigations and whistleblowing are considered newsgathering activities protected by the First Amendment.

Following the dismissal of Justice's case upheld on appeal, the Animal Legal Defense Fund continues to seek accountability under the law.

Reward for information leading to the arrest and conviction of the person or people responsible for illegally shooting and killing a red wolf in Tyrrell County, North Carolina.