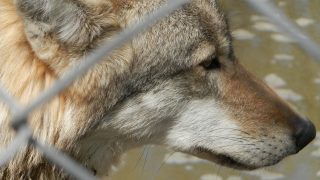 Court Rules Gray Wolves With Some Dog Genes are Protected by Endangered Species Act
Today the U.S. District Court for the District of Minnesota issued a critical ruling in favor of wolves' legal protection — determining that gray wolves are not excluded from the Endangered Species Act even if they have some detectable dog genes.
The Animal Legal Defense Fund and the Lockwood Animal Rescue Center filed the lawsuit in 2017 against Fur-Ever Wild, a Minnesota-based business, alleging that the facility displays wolf pups in a petting zoo and later skins them for their fur.
The lawsuit argues that Fur-Ever Wild's killing of federally-protected gray wolves violates the Endangered Species Act, as did the facility's failure to properly care for the animals while they were alive.
Judge Joan N. Ericksen ruled against Fur-Ever Wild on a motion for summary judgment, finding that the Endangered Species Act does apply to at least some wolves with dog genes. The court found that the wolves at issue in this case are predominately wolf with small amounts of detectable dog genes, and did not preclude the possibility that Endangered Species Act protection could extend to wolves with more recent dog ancestors in other cases. The court also found that the Animal Legal Defense Fund and Lockwood Animal Rescue Center have standing to sue. The lawsuit will now go forward to a trial to determine if Fur-Ever Wild violated the Endangered Species Act.
Related
For years, captive wild animals have suffered in the care of traveling zoo operator Robert Sawmiller. On December 9, 2020 two wolves and a Labrador named Fancy were rescued and transported to sanctuary through legal action brought by the Animal Legal Defense Fund.

The Animal Legal Defense Fund — with the assistance of local counsel named Taylor Waters, U.S. Marshals, and the Auglaize County Sheriffs Office — executed a court order, seizing three animals from infamous wild and domestic animal breeder and broker Robert Sawmiller near Wapakoneta, Ohio.

Court dismisses International Fur Trade Federation's complaint in victory for animals