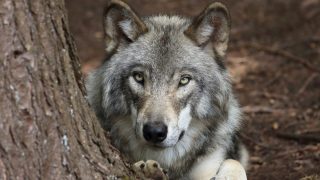 Wolf Pup Exhibitor Endangers Animal and Human Health
Animal Advocates Seek Government Action for Reported Animal Welfare Act Violations at Controversial Exhibition and Fur Factory
For immediate release:
Contact:
media@aldf.org
Deadwood, S.D. — Today, the national nonprofit Animal Legal Defense Fund (ALDF) sent a complaint to the U.S. Department of Agriculture (USDA) notifying the agency of evidence indicating grotesque violations of the federal Animal Welfare Act (AWA) by the wildlife exhibition and fur-harvesting facility "Fur-Ever Wild." The Lakeville-Minnesota business exploits wolf pups in a petting zoo and later skins them for their fur, according to statements made by owner Terri Petter. Now the facility plans to open a new location in Deadwood. The AWA is the primary federal law that protects animals in captivity and mandates the provision of adequate shelter, and sanitary food, water, and housing. ALDF's letter urges the USDA to inspect the Deadwood facility immediately for AWA violations, to protect both animal health and human safety.
According to ALDF's letter, recent news reports about the controversial facility indicate conditions at Fur-Ever Wild include mud and feces-encrusted enclosures, wolves without regular access to clean water, and enclosures so small that one arctic fox was observed running back and forth in a small cage for over an hour—abnormal behavior indicating poor mental health. A visitor also reportedly observed that people may easily stick their hands into cages, endangering the public in its interactions with animals that include mountain lions, foxes, and other dangerous wildlife in addition to the wolves. The USDA provides licenses to animal facilities such as this one, although Petter does not yet hold an exotic animal permit in the state of South Dakota. The facility has been found to violate the AWA multiple times in the past and may be subject to an enforcement action or license revocation as a result of ALDF's complaint.
The early removal of wolf pups from their mothers has also outraged the public. Bred at the Minnesota facility, they are removed from their mothers, sometimes before their eyes fully open. They are displayed for profit in the petting zoos, where the wild animals have full contact with humans. When they get too big for the petting zoo, evidence suggests they are shipped back to Minnesota and skinned for their fur. Hides fetch approximately $200. Yet Petter claims the breeding facility is an educational opportunity.
According to a lawsuit filed in Minnesota, neighbors have long complained about the stench of the facility, in addition to noise and public safety concerns. Shari Kosel, a South Dakota resident that helped South Dakota become the 50th state with an animal cruelty provision last year (for which she was awarded her own day of the year—Tuesday, May 5, 2015—by Governor Daugaard) has started a hugely popular Change.org petition that has drawn more than 114,000 signatures in mere days.
"This facility does not appear to comply with the most basic standards of the law. We expect the USDA to investigate these reports and come down hard on any illegal and dangerous neglect," said Stephen Wells, executive director of the Animal Legal Defense Fund. "The breeding of wild animals for personal profit is inhumane and puts children and families at risk for disease and injury."
Copies of the complaint are available upon request.
Related
Proposed rule would maintain an unnecessarily complicated and confusing process for children to get access to plant-based milk

Recommendations aim to decrease risk of zoonotic disease spread, animal escapes and attacks, and psychological and physical harm to the animals

Animal Legal Defense Fund petition for rulemaking spurs reporting improvements: Forms will be revised to ensure AWA licensees maintain complete records of all animal deaths.