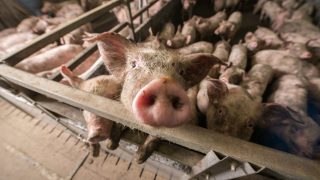 Get Involved in Speak Out for Farmed Animals Week!
How can Student Chapters Get Involved?
Speak Out for Farmed Animals Week is a yearly event dedicated to raising public awareness nationwide about the lack of meaningful laws that protect farmed animals from cruel treatment. Join Animal Legal Defense Fund for a week of action for farmed animals on October 25 – October 31, 2020!
How can Student Chapters Get Involved?
Animal Legal Defense Fund Student Chapters are encouraged to host events to raise awareness about farmed animal protection issues. See our list of suggested events and projects below.
Share these sharegraphics on social media using the hashtag #SpeakOutForFarmedAnimals.

Instagram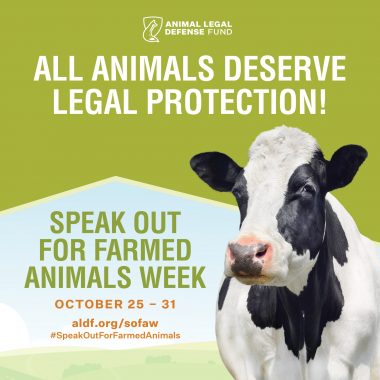 Screen documentaries or movies through Netflix Party, TwoSeven for other streaming services, or another online connection tool and host an online discussion via Zoom afterward.
Host a virtual guest speaker. Suggested topics include Ag-Gag legislation, which criminalizes whistleblowing of egregious animal cruelty, and the exemption of standard abusive practices or farmed animals themselves from criminal anti-cruelty laws. Boost event attendance by hosting the event in collaboration with other student groups.
Email or call your representative about pending local, state, or federal legislation impacting farmed animals, including Ag-Gag bills. Check city and state government websites for current legislation.
Watch an Animal Law Academy webinar and host a discussion afterwards with your chapter. Find discussion questions at the links below.
For more ideas, check out our 2020-2021 Program Guide: Organizing for Animals in the Digital Age.
You can apply for a student chapter project grant to support your event. With any questions, please contact the Student Programs Attorney.
Related
The United States District Court for the Northern District of California ruled in favor of the Animal Legal Defense Fund and its co-plaintiffs, denying an attempt by the Food and Drug Administration (FDA) to dismiss a lawsuit against the agency.

The Animal Legal Defense Fund filed a lawsuit against the United States Department of Agriculture (USDA) under the Freedom of Information Act (FOIA) over the agency's critical redactions in a contract between the USDA's Wildlife Services program and a Colorado slaughterhouse, outlining plans for slaughtering geese rounded up in parks across Denver.

The Animal Legal Defense Fund released the second in a series of white papers — COVID-19 and Factory Farming —providing policy recommendations to address industrial animal agriculture's role in our heightened risk for zoonotic diseases outbreaks, like COVID-19, and its potential to be the source of the next global pandemic.