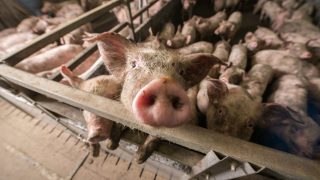 Get Involved in Speak Out for Farmed Animals Week!
How can Student Chapters Get Involved?
Speak Out for Farmed Animals Week is a yearly event dedicated to raising public awareness nationwide about the lack of meaningful laws that protect farmed animals from cruel treatment. Join Animal Legal Defense Fund for a week of action for farmed animals on October 25 – October 31, 2020!
How can Student Chapters Get Involved?
Animal Legal Defense Fund Student Chapters are encouraged to host events to raise awareness about farmed animal protection issues. See our list of suggested events and projects below.
Share these sharegraphics on social media using the hashtag #SpeakOutForFarmedAnimals.

Instagram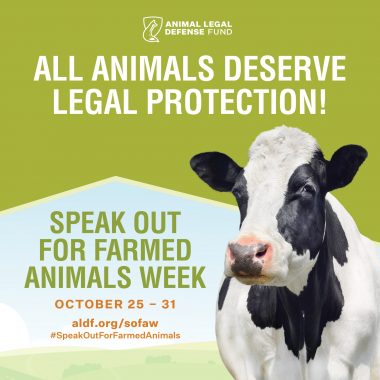 Screen documentaries or movies through Netflix Party, TwoSeven for other streaming services, or another online connection tool and host an online discussion via Zoom afterward.
Host a virtual guest speaker. Suggested topics include Ag-Gag legislation, which criminalizes whistleblowing of egregious animal cruelty, and the exemption of standard abusive practices or farmed animals themselves from criminal anti-cruelty laws. Boost event attendance by hosting the event in collaboration with other student groups.
Email or call your representative about pending local, state, or federal legislation impacting farmed animals, including Ag-Gag bills. Check city and state government websites for current legislation.
For more ideas, check out our 2020-2021 Program Guide: Organizing for Animals in the Digital Age.
You can apply for a student chapter project grant to support your event. With any questions, please contact the Student Programs Attorney.
Related
Animal Legal Defense Fund sues Foster Farms for violating California law by using cruel, water-intensive slaughter method during megadrought

The Animal Legal Defense Fund announced that the U.S. District Court for the Northern District of California has granted a preliminary injunction that allows Miyoko's Creamery (Miyoko's) to maintain its labeling as-is while the case proceeds without fear of enforcement by the California Department of Food and Agriculture (CDFA).

Earlier this summer, the driver of a pig transport truck struck and killed longtime animal advocate Regan Russell. The circumstances regarding her death are not fully known to the public, but top to bottom, the animal agriculture industry is rarely held accountable.