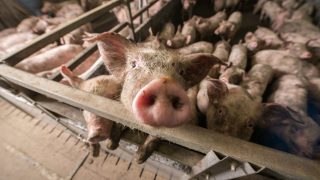 Get Involved in Speak Out for Farmed Animals Week!
How can Student Chapters Get Involved?
Speak Out for Farmed Animals Week is a yearly event dedicated to raising public awareness nationwide about the lack of meaningful laws that protect farmed animals from cruel treatment. Join Animal Legal Defense Fund for a week of action for farmed animals on October 14-20, 2018!
How can Student Chapters Get Involved?
Animal Legal Defense Fund Student Chapters are encouraged to host events to raise awareness about farmed animal protection issues. See our list of suggested events and projects below.
Table during lunch or class breaks (we can provide free materials! The last day to request materials for Speak Out for Farmed Animals Week is September 23, 2018.)
Hold a film screening.
Visit or volunteer at a farmed animal sanctuary. Find one near you.
Email or call your representative about pending local, state, or federal legislation impacting farmed animals, including Ag-Gag bills. Check city and state government websites for current legislation.
Organize an Animal Legal Defense Fund Benefit Day by contacting a local vegan/vegetarian restaurant or animal-friendly business to see if they would donate a percentage of their total daily sales to the Animal Legal Defense Fund to help us in our groundbreaking legal work for animals.
Host a guest speaker. Suggested topics include Ag-Gag legislation, which criminalizes whistleblowing of egregious animal cruelty, and the exemption of standard abusive practices or farmed animals themselves from criminal anti-cruelty laws.
Implement Meatless Mondays in your cafeteria, or table on Mondays to encourage students to eat a plant-based diet that day. Contact us for a petition template for collecting signatures.
Find more chapter project ideas here.
You can apply for a student chapter project grant to support your event. With any questions, please contact the Student Programs Attorney.
Related
Reward Offered by Animal Legal Defense Fund for Information Leading to Arrest/Conviction

We need your help to make Texas the next state to protect dogs in hot cars!

Award-winning music icon Tanya Tucker is joining forces with the Animal Legal Defense Fund to urge families to avoid roadside zoos. After a recent visit to Special Memories Zoo, Tucker was so disturbed by the conditions, she felt compelled to stand up.