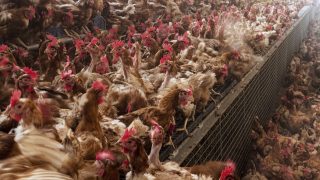 As COVID Pummels Slaughterhouse Workers, Meat Companies Won't Slow Down
Amid the mushrooming crisis of the COVID-19 pandemic, the country's largest slaughterhouses have come under increasing scrutiny as infection hotspots. Infections recently plagued workers and their families at a Tyson Foods poultry processing plant in Camilla, Georgia, killing three. JBS USA and Cargill slaughterhouses in Pennsylvania and Colorado have been forced to close. And at pork conglomerate Smithfield Foods' Sioux Falls, South Dakota meatpacking plant, COVID-19 cases spiked from 80 to 293 in a matter of a few days, soon accounting for nearly half of all infections in the state. Only after South Dakota Governor Kristi Noem and Sioux Falls Mayor Paul TenHaken begged the company to keep the plant closed indefinitely, to try to halt the explosion of infections, did Smithfield agree.
As slaughterhouses have been designated "critical infrastructure" and their employees, "essential workers," slaughterhouse workers face tremendous pressure to come back to work even amid the growing infections in their workplaces. Workers are being forced to risk their lives and those of their families in extremely high-risk environments, with inadequate personal protective equipment and virtually no way to practice social distancing in environments where they stand shoulder-to-shoulder performing repetitive movements for hours on end and retreat to communal locker rooms and cafeterias.
Even before the rise of COVID-19, slaughterhouses were petri dishes for disease and pathogen transmission, in which workers face perilous working conditions and animals suffer abuse and violent death.
Unbelievably, amid the pandemic and with slaughterhouse workers facing such life-threatening conditions, the USDA and its meat corporation clientele are resisting calls to halt or even delay slaughterhouses' adoption of the controversial high-speed, deregulated pig and poultry slaughter inspection systems. Just in the last month, in fact, the USDA's Food Safety and Inspection Service (FSIS) gave the green light to four poultry plants to speed up their processing, and even granted an unprecedented waiver for a Tyson Foods cattle slaughterhouse in Holcomb, Kansas to operate without any speed limits.
Together with a coalition of animal protection organizations, the Animal Legal Defense Fund recently sued the USDA over its dangerous and illegal pig slaughter deregulatory rule, which also faces legal challenges by slaughterhouse workers and food safety advocates. In fact, the Sioux Falls Smithfield pig slaughterhouse now decimated by COVID-19 is one of the 40 establishments set to convert to the high-speed, deregulated inspection model. Even before it became the epicenter of infections, the Smithfield plant's pollution, noxious odors, and animal suffering were negatively affecting Animal Legal Defense Fund members whose interests the organization is vindicating in its litigation against the deregulatory rule.
Another facility recently granted a waiver to operate without any speed limits is the Peco Foods chicken slaughter and processing facility in Batesville, Arkansas. Last year, the Animal Legal Defense Fund wanted to send an investigator inside the facility—to determine how Peco is treating the chickens and to document working conditions inside—but was thwarted from doing so by the specter of Arkansas' Ag-Gag law. The Animal Legal Defense Fund thus joined a coalition suit seeking to have that unconstitutional law overturned.
As COVID-19 plagues the country, large meat companies and the USDA continue to put slaughterhouse workers' lives in jeopardy, while quietly transforming their slaughtering operations in ways that, if left unchecked, will further devastate the environment, harm animals, and hurt workers for years to come, even after the country recovers from the current pandemic. The Animal Legal Defense Fund and its allies remain steadfast in our resolve to stop that from happening.
Join the Animal Legal Defense Fund's email list to stay up to date on lawsuits, legislation, and regulations affecting animals.
Sign Up Now
Related
Animal Legal Defense Fund filed a false claims lawsuit against Holden Farms. Allegations include violating federal and state laws banning "garbage feeding" and state animal cruelty law.

Cows were killed in Madison, Brazos, and Robertson Counties, Texas.

The U.S. Court of Appeals for the Fourth Circuit handed an important win to plaintiffs in a lawsuit challenging North Carolina's Ag-Gag law, ruling that undercover investigations and whistleblowing are considered newsgathering activities protected by the First Amendment.