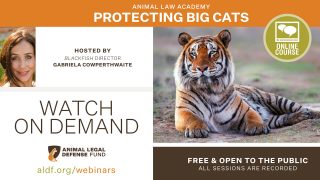 Protecting Big Cats
Presented 7/23/20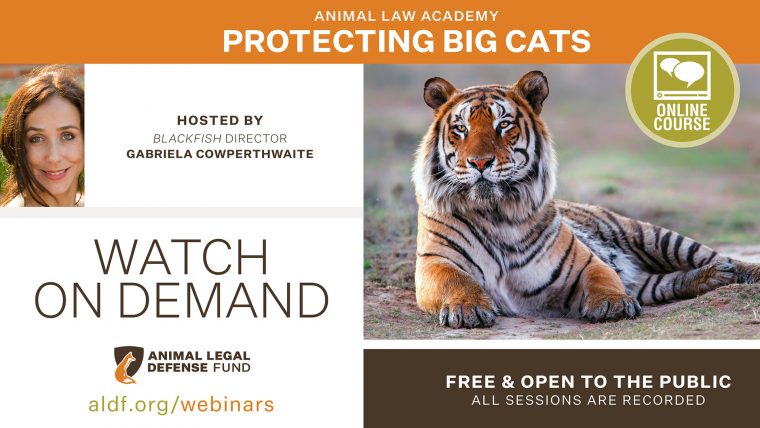 Upon the release of Netflix's Tiger King, Gabriela Cowperthwaite, director of Blackfish, started getting asked a lot of questions from her friends and media outlets. "Why didn't Tiger King help big cats?" — Gabriela's fans wanted her reaction. Joined by a panel of experts, Gabriela will explore the issue of big cat ownership—and the industry that exploits them for profit.
Panelists include Animal Legal Defense Fund Staff Attorney Daniel Waltz, Humane Society of the United States Senior Strategist for Captive Wildlife Lisa Wathne, Animal Welfare Institute Senior Policy Advisor Kate Dylewsky, Born Free Head of Animal Welfare & Captivity Chris Draper, and Turpentine Creek Wildlife Refuge Vice President Scott Smith.
This webinar was prerecorded. Watch now!
Resources
Ask your members of Congress to prohibit the private ownership of big cats.
TAKE ACTION
Related
The court's decision ensures Special Memories Zoo is permanently closed following Animal Legal Defense Fund lawsuit

For decades, Fischbacher, with his business partner Roy Horn, ran an infamous Las Vegas show that forced white tigers and lions to perform tricks in front of large audiences.

Representatives Mike Quigley (D-IL) and Brian Fitzpatrick (R-PA) reintroduced the Big Cat Public Safety Act in the U.S. House of Representatives. The House of Representatives voted 272 to 114 to pass the same bill in December.