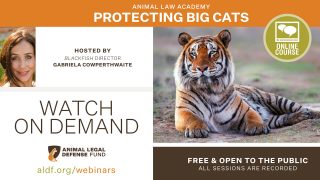 Protecting Big Cats
Presented 7/23/20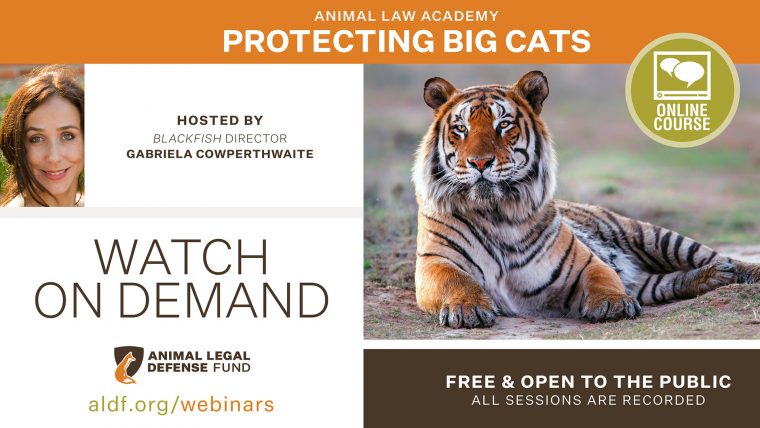 Upon the release of Netflix's Tiger King, Gabriela Cowperthwaite, director of Blackfish, started getting asked a lot of questions from her friends and media outlets. "Why didn't Tiger King help big cats?" — Gabriela's fans wanted her reaction. Joined by a panel of experts, Gabriela will explore the issue of big cat ownership—and the industry that exploits them for profit.
Panelists include Animal Legal Defense Fund Staff Attorney Daniel Waltz, Humane Society of the United States Senior Strategist for Captive Wildlife Lisa Wathne, Animal Welfare Institute Senior Policy Advisor Kate Dylewsky, Born Free Head of Animal Welfare & Captivity Chris Draper, and Turpentine Creek Wildlife Refuge Vice President Scott Smith.
This webinar was pre-recorded. Watch it now!
Resources
Ask your members of Congress to prohibit the private ownership of big cats.
TAKE ACTION
Related
The bill helps end the rampant abuse of tigers and other big cats in captivity by banning private possession

Graphic images of wound are posted on Tik-Tok by an employee of Gator Park — a facility owned and operated by Jason Clay.

The lawsuit alleges federally endangered and threatened animals such as the tigers, lions, and ring-tailed lemurs are receiving inadequate care at Tiger Creek