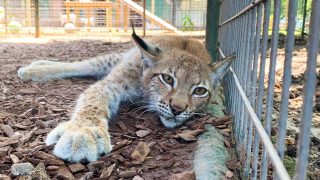 After Images of Employee's Injury from Animal Attack Surface – OSHA Complaint Filed Against Texas Wild Animal Dealer and Roadside Zoo Owner
Graphic images of wound are posted on TikTok by an employee of Gator Park — a facility owned and operated by Jason Clay.
Contact: media@aldf.org
WASHINGTON , D.C. — Today, the Animal Legal Defense Fund filed a complaint urging the Occupational Health and Safety Administration (OSHA) to inspect and appropriately enforce action against wild animal exhibitor Jason Clay for ongoing OSHA violations and resulting animal attack causing substantial injuries to an employee at his East Texas Zoo and Gator Park facility. This incident implicates several federal laws and regulations and is a prime example of the continuous exposure to avoidable hazardous conditions present at Clay's facilities.
On November 9, 2020, an employee of Gator Park posted a TikTok video discussing injuries she sustained a few weeks earlier, after being attacked by an animal. The employee's injuries indicate improper handling of animals by employees at Gator Park — handling which has led to aggressive behavior and therefore stress for the exhibited animals. During her employment at Gator Park, the same employee frequently posted videos of herself alone in cages with young tigers and lions and engaging in rough and aggressive play, as well as videos of improper fencing around the facility. The complaint asserts the employee's improper interactions with the animals show not only Clay's violations of Animal Welfare Act (AWA) regulations governing humane handling of exhibited animals but also his failure to abide by OSHA standards governing the safety of employees.
It is well established that employees who work in dangerous proximity to wild animals are at significant risk of serious injury or death. OSHA has recognized that the issue of workers exposed to large animals is a serious occupational health and safety concern and has taken action to correct and address those workplace hazards. Such was the case in August 2021, when OSHA issued a citation and notification of penalty against Pymatuning Deer Park in Jamestown, Pennsylvania for exposing employees to animal bite and scratch hazards.
"East Texas Zoo and Gator Park consistently fails to meet the minimum standards set forth in the Animal Welfare Act, according to USDA inspection reports. The injuries depicted in the surfaced video clearly shows employees are also in danger," says Animal Legal Defense Fund Executive Director Stephen Wells. "It is simply a matter of time before the next — perhaps fatal — attack occurs. For the safety of the employees and the animals, we urge OSHA to respond to the seriousness of these violations and hold Jason Clay accountable for breaking the law."
In January 2022, the Animal Legal Defense Fund submitted a complaint urging the U.S. Department of Agriculture (USDA) to investigate and enforce the AWA against Jason Clay after seven years of noncompliance with applicable laws — including the Endangered Species Act — as required to maintain a USDA exhibitor's license.
Image credit: East Texas Zoo and Gator Park's Facebook page
Join the Animal Legal Defense Fund's email list to stay up to date on lawsuits, legislation, and regulations affecting animals.
Sign Up Now
Related
Proposed rule would maintain an unnecessarily complicated and confusing process for children to get access to plant-based milk

Recommendations aim to decrease risk of zoonotic disease spread, animal escapes and attacks, and psychological and physical harm to the animals

The bill helps end the rampant abuse of tigers and other big cats in captivity by banning private possession