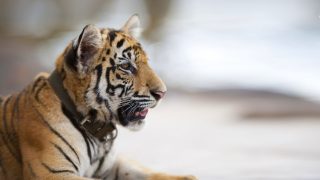 United States: Urge Your Members of Congress to Co-Sponsor the Big Cat Public Safety Act
This action is for U.S. residents only.
There are few federal laws protecting the thousands of big cats living in captivity in the United States, many of whom are kept in private homes or barren cages. While some states have restricted or banned the private possession of big cats, other states have virtually no regulations, allowing the cruel trade in captive big cats to flourish.
The Big Cat Public Safety Act (H.R 1380/S. 2561) would offer a uniform federal solution to this patchwork of state regulation by prohibiting the private ownership of big cats. It would also ban exhibitors from allowing direct contact with cubs. Permitting the public to touch big cat cubs, bottle feed them, and take pictures with them endangers both the cubs and visitors, many of whom are children. And once the cubs grow to be too big for direct contact, they are often sold to individuals, to irresponsible roadside zoos, or even illegally "harvested" for their body parts.
Allowing untrained people to keep big cats in their homes threatens public safety as well. Tigers, lions, and other big cats are powerful animals who can easily kill or severely injure humans. Private possession of big cats endangers those living in the neighborhood, as well as first responders who are ill-equipped to handle situations where big cats have escaped.
The Big Cat Public Safety Act is a commonsense bill that would protect big cats, first responders, and the general public. Please urge your members of Congress to become a co-sponsor.
Join the Animal Legal Defense Fund's email list to stay up to date on lawsuits, legislation, and regulations affecting animals.
Sign Up Now
Related
Animal Legal Defense Fund lawsuit charges Special Memories Zoo with illegally mistreating lions, tigers, gray wolves, and other animals

Lawsuit alleges the government has unlawfully weakened protections for threatened and endangered species

Endangered animals including lions, tigers, and gray wolves suffer in squalid conditions at Special Memories Zoo.