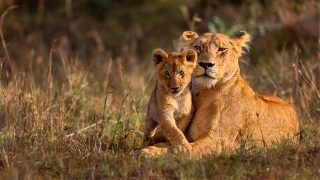 Big Cat Public Safety Act Signed Into Law
The law will help end the rampant abuse of tigers and other big cats in captivity by banning private possession
Contact: media@aldf.org
WASHINGTON, D.C. — Today the Big Cat Public Safety Act (H.R. 263), which prohibits the private possession of big cats and makes it illegal for exhibitors to allow direct contact with cubs, was signed into law by President Joe Biden. The bill passed the U.S. Senate in December 2022 and the House of Representatives in July 2022.
"The Big Cat Public Safety Act provides a clear framework for protecting big cats in the U.S. who have been vulnerable to the perils of private ownership due to a patchwork of state laws that have been inadequate in protecting animals and ensuring public safety," says Animal Legal Defense Fund Executive Director Stephen Wells. "The bill received bipartisan support from both chambers of Congress, and we are pleased to see it become law."
In the spring of 2020, the Animal Legal Defense Fund teamed up with Blackfish Director Gabriela Cowperthwaite to launch an online petition urging Congress to pass the Big Cat Public Safety Act to help end this cruel wildlife trade. Dozens of Hollywood stars signed onto the online petition, including Kate Mara, Rooney Mara, Joaquin Phoenix, Edie Falco, Hilary Swank, Iggy Pop, Ireland Baldwin, Kim Basinger, Ruby Rose, Paul Wesley, Christian Serratos, Nikki Reed, Ian Somerhalder, Teresa Palmer, Glenn Close, Anjelica Huston, Justin Theroux, Christopher Walken, Mena Suvari, Steve Aoki, Alan Cumming, Ed Begley, Alison Pill, Jane Lynch, Olivia Wilde, Kate del Castillo, Charlotte Ross, Kristin Bauer, Sarah Silverman, Whitney Cummings, Jenny Slate, and Jackson Galaxy.
While some states have restricted or banned the private possession of certain wild animals, other states have virtually no regulations, leaving big cats vulnerable to abuse. The Big Cat Public Safety Act closes this gap and also makes it illegal for exhibitors, such as circuses and zoos, to allow direct contact with cubs. Some facilities actually encourage visitors to interact with cubs, such as bottle-feeding tiger cubs, for an extra fee, endangering cubs and visitors alike. Cub attractions lead to perpetual breeding, to maintain tiny cubs while others grow too large to be handled and controlled. Aged-out cubs are often sold to private individuals or killed when they are no longer a source of additional income.
Big cats belong in the wild or, in situations where captive animals can no longer safely be returned to the wild, in reputable sanctuaries. Depriving wild animals of the ability to engage in their natural behaviors, separating them from their newborn cubs, and forcing them into dangerous interactions with humans is both cruel and a recipe for disaster.
Join the Animal Legal Defense Fund's email list to stay up to date on lawsuits, legislation, and regulations affecting animals.
Sign Up Now
Related
This action is for U.S. residents only.

The victory follows the passage of a factory farming law and efforts to curtail the construction of new mega dairies in the state

Lawsuit filed by the Animal Legal Defense Fund and The Good Food Institute asserts that the law imposes unclear and vague standards on plant-based meat producers