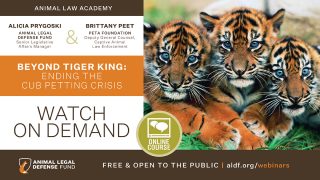 Beyond Tiger King: Ending the Cub Petting Crisis
Presented 12/1/21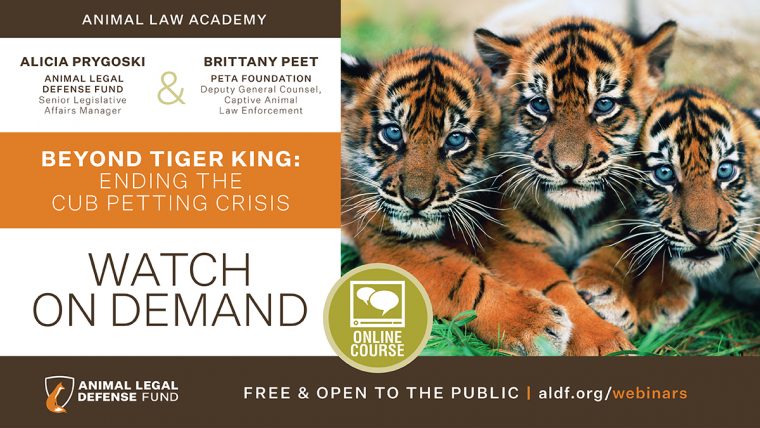 Join Brittany Peet, Deputy General Counsel for Captive Animal Law Enforcement for the PETA Foundation, and Alicia Prygoski, Animal Legal Defense Fund Senior Legislative Affairs Manager, to explore the successful strategies that have nearly eradicated the big cat cub petting industry in the United States, and why passage of The Big Cat Public Safety Act remains an urgent priority.
This webinar has been pre-recorded. Watch it now!
Resources
Join the Animal Legal Defense Fund's email list to stay up to date on lawsuits, legislation, and regulations affecting animals.
Sign Up Now
Related
Graphic images of wound are posted on Tik-Tok by an employee of Gator Park — a facility owned and operated by Jason Clay.

The lawsuit alleges federally endangered and threatened animals such as the tigers, lions, and ring-tailed lemurs are receiving inadequate care at Tiger Creek

Thanks to Animal Legal Defense Fund supporters, a tiger named Nila, two lions — Buddy and Missa, two ring-tailed lemurs, a Mikado pheasant, a military macaw, and a blue-and-gold macaw will at last have access to species-appropriate habitats and enrichment.