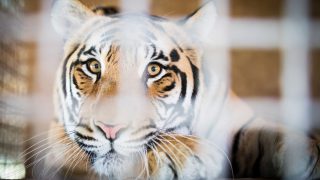 Add Your Voice – Support the Big Cat Public Safety Act!
Team up with Joaquin Phoenix, Glenn Close, and other celebrities to protect big cats!
Team up with Joaquin Phoenix, Glenn Close, and other celebrities to protect big cats! The Animal Legal Defense Fund has joined forces with Blackfish director Gabriela Cowperthwaite and dozens of Hollywood stars to urge Congress to pass the Big Cat Public Safety Act.

The full list of celebrities to sign onto the petition include: Joaquin Phoenix, Rooney Mara, Kate Mara, Edie Falco, Iggy Pop, Ireland Baldwin, Kim Basinger, Ruby Rose, Paul Wesley, Christian Serratos, Nikki Reed, Ian Somerhalder, Teresa Palmer, Glenn Close, Anjelica Huston, Justin Theroux, Christopher Walken, Mena Suvari, Steve Aoki, Alan Cumming, Ed Begley, Alison Pill, Jane Lynch, Olivia Wilde, Kate del Castillo, Charlotte Ross, Kristin Bauer, Sarah Silverman, Whitney Cummings, Jenny Slate, and Jackson Galaxy.
Will you add your voice?
Dear Members of Congress,
We are proud to stand with 'Blackfish' Director Gabriela Cowperthwaite and Animal Legal Defense Fund in support of the Big Cat Public Safety Act.
Shockingly, there are thousands more tigers living in captivity in the United States than there are left in the wild.
Private owners and operations that breed tigers forcefully separate newborn cubs from their mothers – sometimes within minutes of birth – to use them in expensive photo opportunities with tourists. Because cubs can only be "handled" for a few months, drugging tigers to be compliant and docile is commonplace. When they get too old and their existence is no longer profitable, they are often irresponsibly sold into the pet trade or killed.
Tigers and other big cats are apex predators who have complex physical and psychological needs and desires. Depriving them of expressing their natural instincts is inhumane. Keeping big cats in captivity in private homes or small cages creates an enormous public safety threat should these animals ever get loose.
The Big Cat Public Safety Act prohibits the private ownership of big cats, direct public contact, and dangerous public interactions with big cats such as cub petting. We hope you will support this commonsense bill without delay.
Join the Animal Legal Defense Fund's email list to stay up to date on lawsuits, legislation, and regulations affecting animals.
Sign Up Now
Related
Today the Delaware County district court granted a motion for contempt filed by the Animal Legal Defense Fund against Cricket Hollow Zoo and its owners, Pamela and Thomas Sellner, seeking the whereabouts of more than 100 animals who "disappeared" prior to a court-ordered rescue.

The Iowa Court of Appeals ruled in favor of plaintiffs represented by the Animal Legal Defense Fund in a lawsuit against Cricket Hollow Zoo for violating state animal cruelty laws following an appeal of the court's 2019 decision.

Bill aims to help end the rampant abuse of tigers and other big cats in captivity by banning private possession