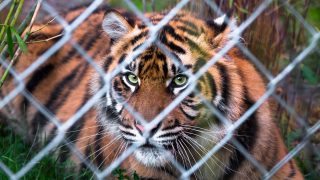 Support the Big Cat Public Safety Act (U.S.)
This action is for U.S. residents only.
An alarming number of big cats — tigers, lions, leopards, and others — are being kept in private homes and backyards across the U.S.
The Big Cat Public Safety Act would help end the rampant abuse of big cats across the U.S. by prohibiting the private possession of these animals and making it illegal for exhibitors to allow direct contact with cubs.
Please use the form below to send a message to your federal lawmakers, urging them to support and co-sponsor the Big Cat Public Safety Act. Remember, personalizing your message can help it stand out.
The big cat "pet" trade is largely fueled by the dangerous, abusive "cub petting" industry, in which visitors to roadside zoos and other facilities pay high prices to interact directly with young cubs. This industry relies on a steady stream of young cubs, who quickly grow too big and strong to be handled. When they can no longer be used for "cub petting" interactions, they're often sold to private individuals or roadside zoos.
Big cats don't belong in backyards; they have complex physical and psychological needs and require large territories to truly flourish. Meanwhile, these animals can pose a major risk to public safety, and there have been numerous instances of big cats escaping private homes and roaming nearby neighborhoods.
Join the Animal Legal Defense Fund's email list to stay up to date on lawsuits, legislation, and regulations affecting animals.
Sign Up Now
Related
The Act has authority to protect federally endangered and threatened animals such as the tigers, lions, and ring-tailed lemurs enduring inadequate treatment at Tiger Creek

Bill aims to help end the rampant abuse of tigers and other big cats in captivity by banning private possession

A Courtroom Animal Advocate Program (CAAP) bill, S.2868/A.4533, which would allow law students and volunteer lawyers to advocate for animal victims in cruelty criminal cases, unanimously passed the New Jersey Senate. The bill is sponsored by Senator Nicholas Scutari and Assemblyman Raj Mukherji and endorsed by the Animal Legal Defense Fund.