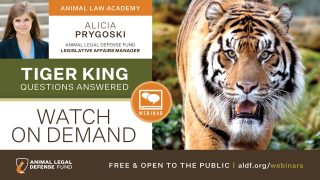 Tiger King: Questions Answered 2020
Presented 3/31/20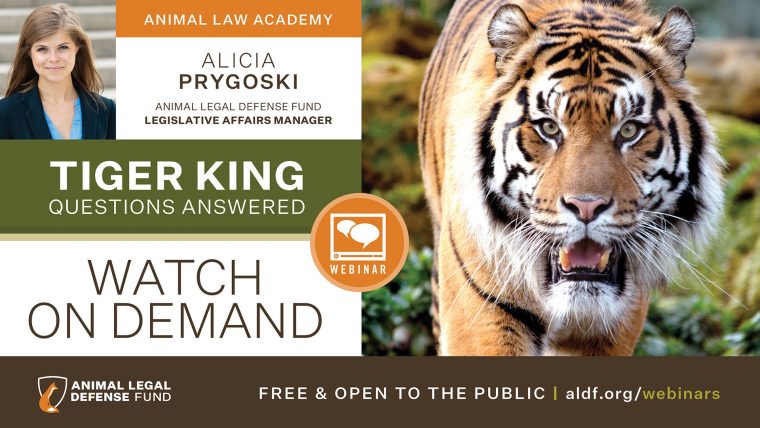 There are currently more tigers living in captivity in the United States than there are left in the wild. In many states, it is perfectly legal to keep a tiger in your home or backyard. Tiger cubs are being bred and exploited at an alarming rate to fuel the cruel cub petting industry. Learn more about the current and pending laws surrounding private ownership and roadside zoos like the ones featured in Tiger King.
This webinar was pre-recorded. Watch it now!
Resources
Join the Animal Legal Defense Fund's email list to stay up to date on lawsuits, legislation, and regulations affecting animals.
Sign Up Now
Related
Graphic images of wound are posted on Tik-Tok by an employee of Gator Park — a facility owned and operated by Jason Clay.

The lawsuit alleges federally endangered and threatened animals such as the tigers, lions, and ring-tailed lemurs are receiving inadequate care at Tiger Creek

Thanks to Animal Legal Defense Fund supporters, a tiger named Nila, two lions — Buddy and Missa, two ring-tailed lemurs, a Mikado pheasant, a military macaw, and a blue-and-gold macaw will at last have access to species-appropriate habitats and enrichment.