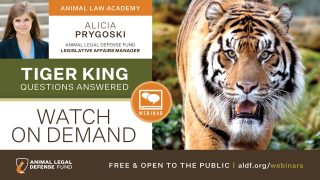 Tiger King: Questions Answered 2020
Presented 3/31/20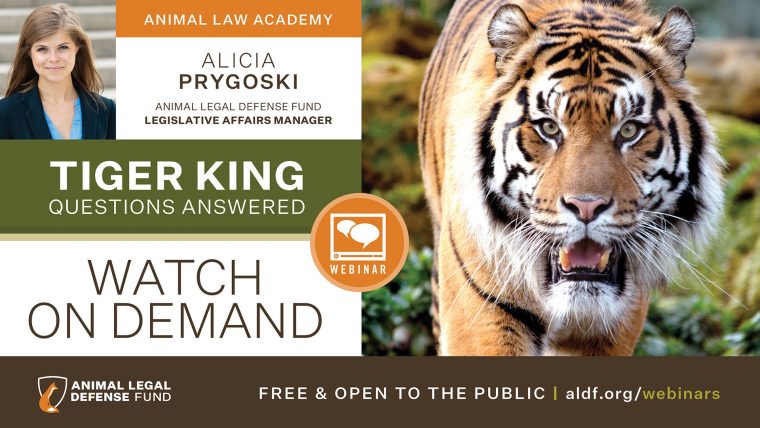 There are currently more tigers living in captivity in the United States than there are left in the wild. In many states, it is perfectly legal to keep a tiger in your home or backyard. Tiger cubs are being bred and exploited at an alarming rate to fuel the cruel cub petting industry. Learn more about the current and pending laws surrounding private ownership and roadside zoos like the ones featured in Tiger King.
This webinar was prerecorded. View the recording now!
Resources
Ask your members of Congress to prohibit the private ownership of big cats.
TAKE ACTION
Related
Today the House of Representatives voted 272 to 114 to pass the Big Cat Public Safety Act. Endorsed by the Animal Legal Defense Fund, the bill prohibits the private ownership of big cats and makes it illegal for exhibitors to allow direct contact with cubs.

The Animal Legal Defense Fund applauds the closure of the Greater Wynnewood Exotic Animal Park, the zoo depicted in the Netflix documentary, "Tiger King," following the U.S. Department of Agriculture's (USDA) suspension of its owner's exhibitor license.

After multiple lawsuits filed and fought by the Animal Legal Defense Fund, the Tiger Truck Stop has finally stopped exhibiting animals and tore down its cages. The Tiger Truck Stop, the infamous gas station in Gross Tete, Louisiana, held Tony — an endangered Siberian-Bengal tiger — from the age of 6-months until his death at the age of 17 in 2017.