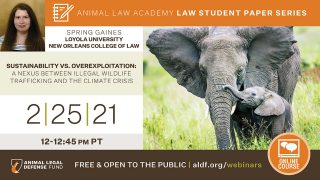 Law Student Paper Series — Sustainability vs. Overexploitation: A Nexus Between Illegal Wildlife Trafficking and the Climate Crisis
2/25/21 12-12:45 pm PT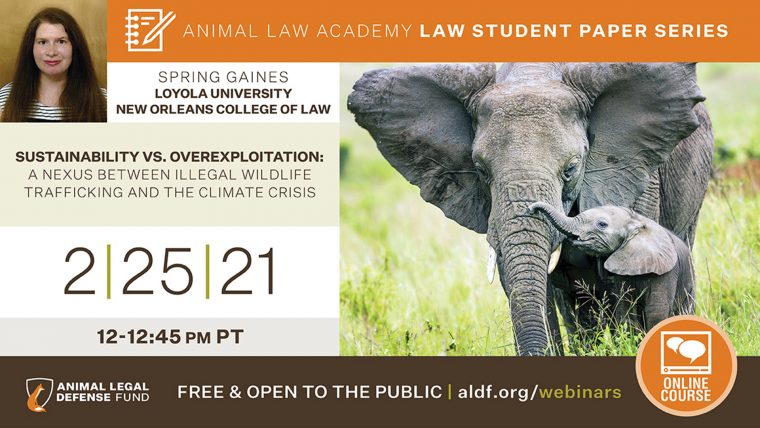 International and domestic legal communities have long understood the need to incorporate sustainable development into policy practices. Yet, the ongoing dual drivers of biodiversity loss — illegal wildlife trafficking and the climate crisis — show a critical failure in our policy systems. Join Spring A. Gaines, Loyola University New Orleans College of Law, as she discusses how national and international policies fail to implement the idea of sustainability into protecting ecosystems that are continuously overexploited to their own detriment, while exploring how this oversight impacts species in different parts of our natural world. A brief Q&A to follow.
Related
The court's decision ensures Special Memories Zoo is permanently closed following Animal Legal Defense Fund lawsuit

For decades, Fischbacher, with his business partner Roy Horn, ran an infamous Las Vegas show that forced white tigers and lions to perform tricks in front of large audiences.

Representatives Mike Quigley (D-IL) and Brian Fitzpatrick (R-PA) reintroduced the Big Cat Public Safety Act in the U.S. House of Representatives. The House of Representatives voted 272 to 114 to pass the same bill in December.
Join the Animal Legal Defense Fund's email list to stay up to date on lawsuits, legislation, and regulations affecting animals.
Sign Up Now