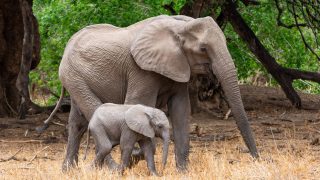 The application period for the Spring 2021 Law Student Paper Series is now closed. Please check back later for future updates.
All across the country, law students are writing papers on animal law topics to complete class and degree requirements—papers which, despite the amount of time and commitment involved in producing a high-quality piece of scholarship, do not receive the attention they deserve. The Law Student Paper Series provide a unique platform for students to showcase their work to an online audience. It also provides law students with an unparalleled opportunity to gain public speaking experience, hone their presentation skills, and contribute to the field of animal law. Students whose papers are selected will receive one-on-one prep and practice time with Animal Legal Defense Fund staff members before presenting their papers in a 30-minute webinar format. Papers will also be added to our online library.
Eligibility requirements:
Author must have been enrolled in law school when the paper was written.
Papers must have been written within the last two years.
Only complete papers will be considered. There is no length requirement.
Papers may be published or unpublished, but if published, permission must be obtained to share the paper on the Animal Law Academy portal.
By submitting a paper, you are affirming that it has been fact-checked and sources appropriately cited.
Must be fluent in English and comfortable presenting and answering questions without a translator.
Must be willing to present the topic as part of a webinar, including prep-time.
Related
Today the House of Representatives voted 272 to 114 to pass the Big Cat Public Safety Act. Endorsed by the Animal Legal Defense Fund, the bill prohibits the private ownership of big cats and makes it illegal for exhibitors to allow direct contact with cubs.

The Animal Legal Defense Fund filed a lawsuit against the United States Department of Agriculture (USDA) under the Freedom of Information Act (FOIA) over the agency's critical redactions in a contract between the USDA's Wildlife Services program and a Colorado slaughterhouse, outlining plans for slaughtering geese rounded up in parks across Denver.

The Animal Legal Defense Fund released the second in a series of white papers — COVID-19 and Factory Farming —providing policy recommendations to address industrial animal agriculture's role in our heightened risk for zoonotic diseases outbreaks, like COVID-19, and its potential to be the source of the next global pandemic.