COVID-19: Rethinking our Relationship with Animals
Presented 7/29/20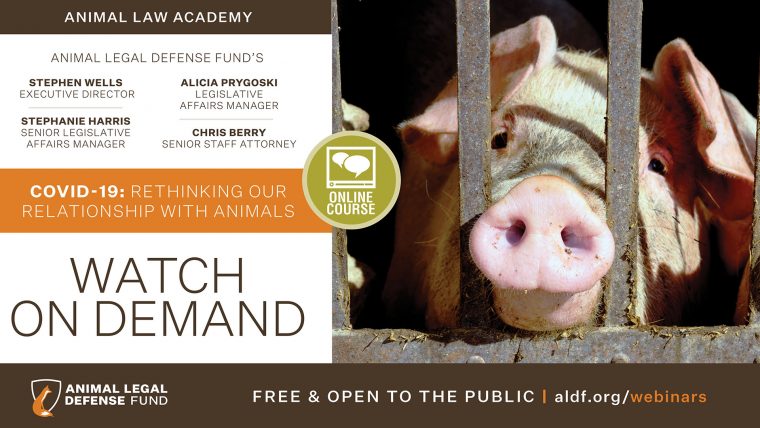 With global outbreaks of zoonotic disease, like COVID-19, on the rise, it is imperative that we simultaneously mobilize to limit the staggering impact of the current pandemic and take action to mitigate our heightened risk from the next. The Animal Legal Defense Fund is developing a series of white papers, which outline policy strategies to reduce zoonotic disease transmission and risks. This webinar will provide an overview of the first white paper in the series — COVID-19 and Animals — which discusses the root causes of zoonotic diseases and the industries putting the public in the most danger. Specifically, we will discuss modern food production, including factory farming, which involves billions of high-risk interactions between humans and animals, as well as various other human-animal interactions due to the wildlife trade, habitat loss and human encroachment, and climate change.
This webinar was prerecorded. Watch it now!
Resources
Join the Animal Legal Defense Fund's email list to stay up to date on lawsuits, legislation, and regulations affecting animals.
Sign Up Now
Related
Earlier this summer, the driver of a pig transport truck struck and killed longtime animal advocate Regan Russell. The circumstances regarding her death are not fully known to the public, but top to bottom, the animal agriculture industry is rarely held accountable.

A series of billboards, in English and Spanish, are launching near slaughterhouses across the country — offering an online tip portal where industrial animal agriculture workers can report any concerns. Joaquin Phoenix partnered with the Animal Legal Defense Fund in offering and promoting ReportAnimalAg.com to allow individuals to remain anonymous.

The Animal Legal Defense Fund announced that the U.S. District Court for the Northern District of California has denied the California Department of Food and Agriculture's (CDFA) motion to dismiss the lawsuit filed on behalf of Miyoko's Creamery (Miyoko's).