COVID-19: Rethinking our Relationship with Animals
Presented 7/29/20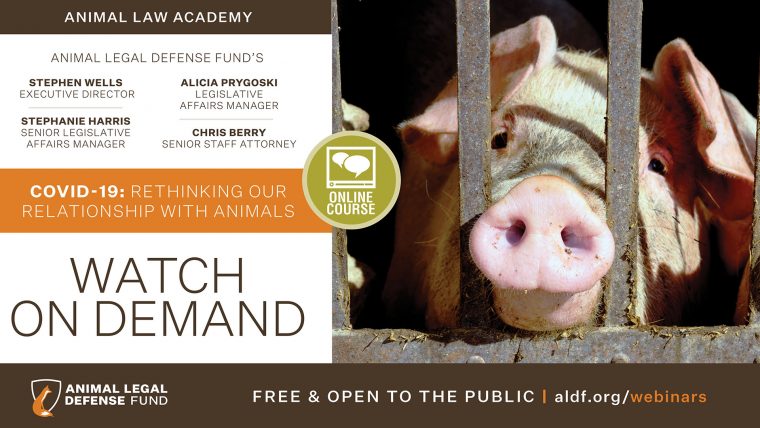 With global outbreaks of zoonotic disease, like COVID-19, on the rise, it is imperative that we simultaneously mobilize to limit the staggering impact of the current pandemic and take action to mitigate our heightened risk from the next. The Animal Legal Defense Fund is developing a series of white papers, which outline policy strategies to reduce zoonotic disease transmission and risks.
This webinar will provide an overview of the first white paper in the series — COVID-19 and Animals — which discusses the root causes of zoonotic diseases and the industries putting the public in the most danger. Specifically, we will discuss modern food production, including factory farming, which involves billions of high-risk interactions between humans and animals, as well as various other human-animal interactions due to the wildlife trade, habitat loss and human encroachment, and climate change.
This webinar was pre-recorded. Watch it now!
Resources
Join the Animal Legal Defense Fund's email list to stay up to date on lawsuits, legislation, and regulations affecting animals.
Sign Up Now
Related
Public interest coalition celebrates another win against unconstitutional statute barring undercover investigations at factory farms

Edie Falco narrates the Animal Legal Defense Fund film demanding transparency in factory farming

D.C. Court of Appeals rules Animal Legal Defense Fund can pursue its claims