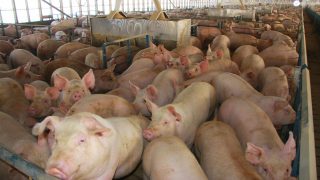 Federal Rule Allowing Cruel High-Speed Pig Slaughter Violates Federal Law
Today the United States Department of Agriculture's (USDA) Food Safety and Inspection Service issued a final rule allowing pig slaughterhouses nationwide to police themselves and kill pigs at very high line speeds. The Animal Legal Defense Fund opposes the euphemistically named "Modernization of Pork Slaughter" rule.
High-speed pig slaughter increases pigs' suffering, threatens consumer and worker safety, and poses serious environmental risks. The USDA violated federal law in finalizing this rule, acting contrary to the mountain of evidence before it demonstrating the rule's dangers, and flouting humane slaughter and meat inspection laws. The USDA also failed to conduct any environmental review for an action that is sure to increase pig raising and slaughtering nationwide, further amplifying the already significant pollution caused by pig slaughterhouses.
The Modernization of Pork Slaughter rule expands a problematic pilot program that allowed five of the country's largest pig slaughterhouses to radically increase the speed at which pigs are slaughtered while at the same time decreasing government oversight of food safety by putting critical animal inspection and food safety tasks in the hands of slaughterhouse workers already subject to relentless pressure to keep the slaughter line moving. The swine Hazard Analysis and Critical Control Point-based Inspection Models Project (HIMP) program started in 1997 and, since its inception, has been widely criticized by watchdog groups, former USDA food safety inspectors, and even the USDA's own Office of Inspector General. While the largest meat companies stand to profit from this privatized, speeded-up pig slaughter, animals, consumers, and slaughterhouse workers will pay a steep price.
The Animal Legal Defense Fund submitted comments to the USDA urging the agency not to go forward with the high-speed pig slaughter rule. We are assessing our legal options regarding the agency's decision to finalize this dangerous and inhumane rule.
Related
Edie Falco narrates the Animal Legal Defense Fund film demanding transparency in factory farming

D.C. Court of Appeals rules Animal Legal Defense Fund can pursue its claims

Animal Legal Defense Fund-led coalition wins major victory for animal protection, food and worker safety, and the First Amendment
Help animals win the legal protections they so desperately need and deserve, and ensure they have an advocate in courtrooms and legislatures across the country.
Take Action Now