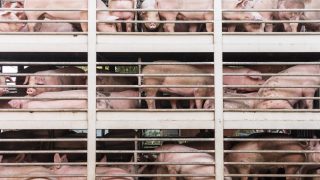 COVID-19 Policy Recommendations
White Paper Series Related to COVID-19 and Policy Recommendations
Pandemics have not only been predicted, they are also preventable. While the country continues to fight COVID-19, we must also prepare for — with the intention to prevent — the next pandemic. The Animal Legal Defense Fund is developing a series of papers, each outlining policy strategies calibrated to reduce specific zoonotic risks.
This paper seeks to identify the root causes of zoonotic disease and to offer solutions that will mitigate pandemic risk by reimagining the human-animal interactions that have contributed to the current crisis and are presently laying the groundwork for the next.
Join the Animal Legal Defense Fund's email list to stay up to date on lawsuits, legislation, and regulations affecting animals.
Sign Up Now
Related
The USDA and its meat corporation clientele are resisting calls to halt or even delay slaughterhouses' adoption of the controversial high-speed, deregulated pig and poultry slaughter inspection systems.

As shelter-in-place orders are given across the nation, there is a growing concern that family violence will be on the rise.

Animal Legal Defense Fund calls on Congress to respond to COVID-19 by proactively addressing the root causes of pandemics