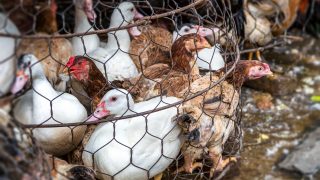 Live Animal Market Tracker Form
Report Live Animal Markets in Your State
Live animal markets refer to facilities where animals are both slaughtered and then sold direct-to-consumer onsite, regardless of size and number of species. A wide range of animals are killed in these markets—from farmed animals like chickens and goats to turtles and frogs.
Terrified and often confined to tiny, filthy cages, animals in live markets suffer terribly before they're killed. But these markets aren't only cruel, they're a major threat to public health. Experts believe that COVID-19 likely originated at a live market in Wuhan, China.
To help protect animals and public health, the Animal Legal Defense Fund is working to develop comprehensive food and safety policies. But we need your help identifying the locations of live animal markets in the United States.
Use the submission form below to tell us about a live animal market in your community. Please do not include markets outside of the U.S.
Help animals win the legal protections they so desperately need and deserve, and ensure they have an advocate in courtrooms and legislatures across the country.
Take Action Now
Related
Public interest coalition celebrates another win against unconstitutional statute barring undercover investigations at factory farms

Edie Falco narrates the Animal Legal Defense Fund film demanding transparency in factory farming

D.C. Court of Appeals rules Animal Legal Defense Fund can pursue its claims