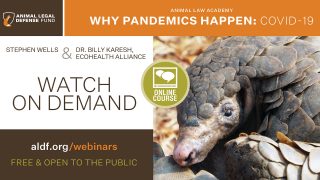 Why Pandemics Happen: COVID-19 2020
Presented on 4/20/20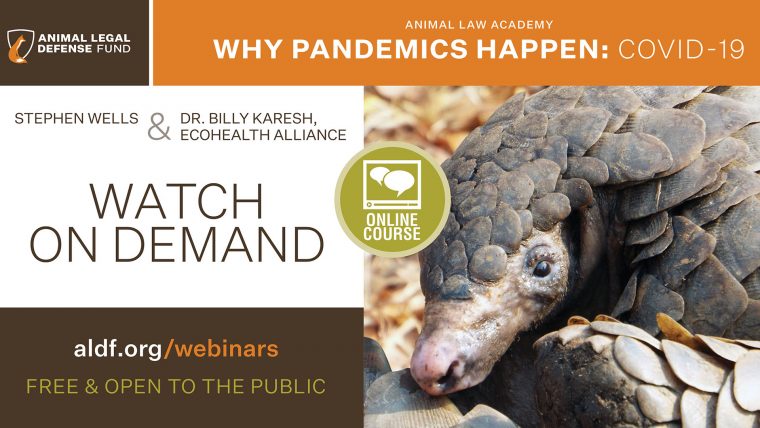 Two-thirds of human infectious diseases are shared with animals and the majority of these are from wild species. This is especially relevant given increasing pressures on our environment that are changing human contact with wildlife, resulting in the growing threat of disease emergence to our global and local public health and economies. Leading drivers of disease emergence in humans from wildlife include anthropogenic pressures such as land use change, food production systems, and trade and travel. These complex drivers require broad and novel approaches to predicting and preventing disease emergence and pandemics. Join Stephen Wells, Animal Legal Defense Fund Executive Director, and Dr. Billy Karesh, EcoHealth Alliance Executive Vice President for Health and Policy, for a conversation on this timely topic.
This webinar was prerecorded. Watch now!
Resources
Join the Animal Legal Defense Fund's email list to stay up to date on lawsuits, legislation, and regulations affecting animals.
Sign Up Now
Related
The USDA and its meat corporation clientele are resisting calls to halt or even delay slaughterhouses' adoption of the controversial high-speed, deregulated pig and poultry slaughter inspection systems.

As shelter-in-place orders are given across the nation, there is a growing concern that family violence will be on the rise.

Animal Legal Defense Fund calls on Congress to respond to COVID-19 by proactively addressing the root causes of pandemics