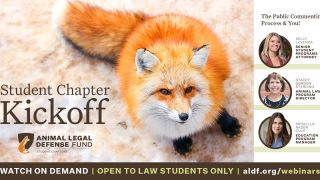 Student Chapter Kickoff – The Public Commenting Process & You!
Presented 9/14/21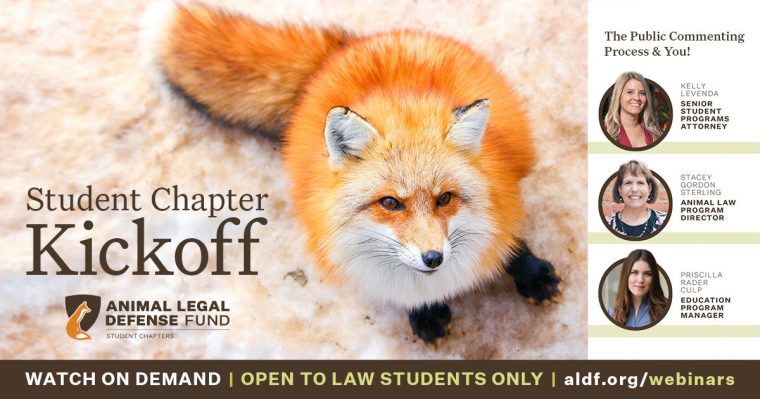 Welcome to the 2021-22 academic year! Join us and other law students from across the country for the Animal Legal Defense Fund Student Chapter Kickoff—an online event exclusively for law students. We'll introduce you to the Animal Law Program team, and preview resources to get your chapter involved this year. Animal Legal Defense Fund's Animal Law Program Director, Stacey Gordon Sterling will lead a workshop on public commenting on animal law regulatory issues and provide tips about how your chapter can advocate for animals through the regulatory process. This event is open to all law students and we encourage Student Chapter members to join us and virtually "bring a friend" who may be interested in joining your chapter.
This webinar has been pre-recorded. Watch it now!
Resources
Animal Law Program Director

Senior Student Programs Attorney

Senior Law School Programs Attorney
Related
Damning evidence presented during proceedings are the foundation of the appeal

Actress Christian Serratos narrates the Animal Legal Defense Fund film advocating for an end to puppy mills

Animal Legal Defense Fund's lawsuit alleged Hormel misleads consumers with its Natural Choice® brand of lunch meats and bacon