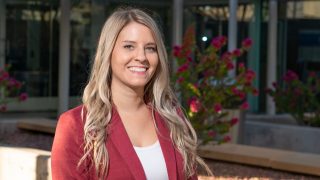 Kelly Levenda
Senior Student Programs Attorney
As Student Programs Attorney, Kelly manages the organization's student chapter program. She is a 2013 graduate of Lewis & Clark Law School in Portland, Oregon. During law school, she served as a Source Checker and Associate Editor of Animal Law Review, interned at the Animal Law Clinic, and was co-director of the school's Animal Legal Defense Fund Student Chapter. Kelly completed her bachelor's degree at University of Illinois where she studied Pre-Veterinary Animal Science.
Kelly has authored articles including "Science-Based Farmed Animal Welfare Laws for the U.S.," "Legislation to Protect the Welfare of Fish," and "Sensitizing Humans to Fish Sentience" and co-authored Cruelty to Human and Nonhuman Animals in the Wild-Caught Fishing Industry. She is currently co-authoring the first textbook on Aquatic Animal Law with Kathy Hessler, Becky Jenkins, and Amy Wilson.
Kelly lives in Portland, OR with her partner and their three cats, Rat, Kevin, and Bennie, and their dog, Howie.