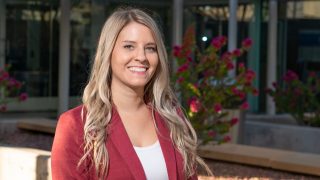 Kelly Levenda is the Animal Legal Defense Fund Student Programs Attorney and a 2013 graduate of Lewis & Clark Law School in Portland, Oregon. During law school, she completed a research project on federal and state laws for Minnesota Voters for Animal Protection and participated as a Source Checker and Associate Editor on Animal Law Review. She served as co-director of the school's Animal Legal Defense Fund Student Chapter, where she organized Meat Out, an annual vegan barbecue, and compiled the group's bi-weekly action alerts that include animal related news, events, jobs, and volunteer opportunities. Kelly also worked with Farm Sanctuary on the Someone Project, where she compiled a scientific survey of cognitive abilities of animals through Lewis & Clark's Animal Law Clinic.
Kelly completed her bachelor's degree at University of Illinois where she studied Animal Science. She has been active in the animal protection movement her entire adult life, and is dedicated to helping animals through her career. She completed an animal behavior research project at the Champaign County Humane Society, was an active member of the University of Illinois Campus Vegetarian Society, and volunteered for Mercy for Animals. Her paper, "Legislation to Protect the Welfare of Fish," which addresses the capacity of fish to feel pain, was published in Animal Law Review.
She hopes to continue using her scientific background to improve conditions on farms for farmed animals.