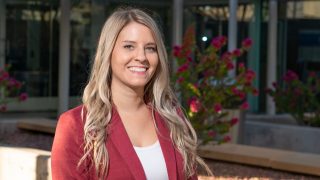 Kelly Levenda
Senior Student Programs Attorney
As Student Programs Attorney, Kelly manages the organization's student chapter program. She is a 2013 graduate of Lewis & Clark Law School in Portland, Oregon. During law school, she served as a Source Checker and Associate Editor of Animal Law Review, interned at the Animal Law Clinic, and was co-director of the school's Animal Legal Defense Fund Student Chapter. Kelly completed her bachelor's degree at University of Illinois where she studied Pre-Veterinary Animal Science.
Kelly has authored articles including Science-Based Farmed Animal Welfare Laws for the U.S., Legislation to Protect the Welfare of Fish, and Sensitizing Humans to Fish Sentience and co-authored Cruelty to Human and Nonhuman Animals in the Wild-Caught Fishing Industry. She is currently co-authoring the first textbook on Aquatic Animal Law with Kathy Hessler and Becky Jenkins.
Kelly lives in Oklahoma City with her partner and their three animal companions: cats, Mori and Ollie, and energetic border collie, Bernie.