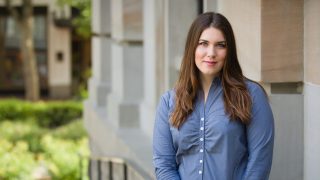 Priscilla Rader Culp
Senior Law School Programs Attorney
As a Senior Law School Programs Attorney, Priscilla Rader Culp develops and manages education programs and opportunities for law students, attorneys, and the general public, including the academic outreach, scholarships, and events.
As a 2016 Lewis & Clark Law School graduate, Priscilla interned with Mercy for Animals, clerked for the Animal Legal Defense Fund's Litigation Program and the Center for Animal Law Studies, and acted as co-director for the school's Animal Legal Defense Fund student chapter, winning Chapter of the Year Award for its work. Priscilla completed her bachelor's degree at Pacific University where she studied philosophy, with a special focus on animal ethics.
Priscilla's commitment to animal law has been recognized with the Animal Law Leadership Award, the Advancement of Animal Law Scholarship and the Richard J. Peppin Animal Rights Scholarship. Priscilla was also selected by professors and faculty of her law school to join its Cornelius Honor Society.
She shares her home in Portland, Oregon with her husband and their adopted cat, Wesley, who has them both wrapped around his paw.