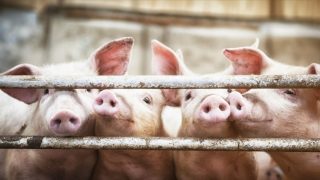 Speak Out for Farmed Animals Month
How can legal professionals get involved?
Speak Out for Farmed Animals is a yearly event dedicated to raising public awareness nationwide about the lack of meaningful laws that protect farmed animals from cruel treatment. Join Animal Legal Defense Fund for a month of action for farmed animals during October!
Here are a few simple ideas on how legal professionals can get involved:
Have a virtual movie night with friends or colleagues. Discuss afterwards on Zoom! We suggest:
Watch an Animal Legal Defense Fund webinar about factory farming. We suggest:
Visit or volunteer at a farmed animal sanctuary near you. Send us your photos and share your experience on social media using the hashtag #SpeakOutForFarmedAnimals. In light of COVID-19, many sanctuaries are offering virtual tours this year, as well.
Take action by signing our "Ag-Gag Hurts Animals" petition.
Organize an Animal Legal Defense Fund Benefit Day by contacting a local plant-based restaurant or animal-friendly business to see if they would donate a percentage of their total daily sales to the Animal Legal Defense Fund to help us in our groundbreaking legal work for animals.
Implement Meatless Mondays in your office or at home. Helping other people choose more plant-based options spares the lives of farmed animals.
Own a business in a state that has an Ag-Gag law? Help your customers become informed and hand out our brochures and stickers. Use the hashtag #(companyname)againstAgGag on social media to spread the word online too.
Thinking of traveling to a state with an Ag-Gag law for vacation or work? Try to avoid it if you can and let them know that you don't want to spend money in their state because animal protection, transparency, food safety, workers' rights, and the environment is important to you. Go here for a list of U.S. tourism offices that you can contact.
Email or call your representative about pending local, state, or federal legislation impacting farmed animals, including Ag-Gag bills.
Related
Today's Speak Out for Farmed Animals challenge is to share the cutest picture of a farmed animal on social media! Don't forget to use the tag #SpeakOut!