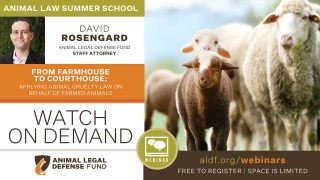 From Farmhouse to Courthouse: Applying Animal Cruelty Law on Behalf of Farmed Animals 2019
Presented 7/9/19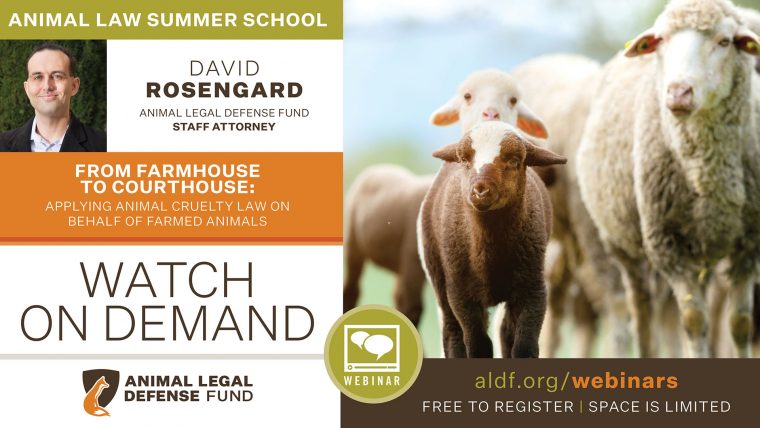 Farmed animals feature in some of the oldest known legal cases. Despite the venerable history of farmed animals within the law, these animals are all too often thought of as being entirely excluded from the protection of animal cruelty legislation.
Join Animal Legal Defense Fund Staff Attorney David B. Rosengard as he dismantles this myth, exploring the ways that cruelty law can be deployed on behalf of farmed animals – and avenues towards expanding what those protections offer.
Related
The Animal Legal Defense Fund filed a lawsuit against the United States Department of Agriculture (USDA) under the Freedom of Information Act (FOIA) over the agency's critical redactions in a contract between the USDA's Wildlife Services program and a Colorado slaughterhouse, outlining plans for slaughtering geese rounded up in parks across Denver.

The Animal Legal Defense Fund released the second in a series of white papers — COVID-19 and Factory Farming —providing policy recommendations to address industrial animal agriculture's role in our heightened risk for zoonotic diseases outbreaks, like COVID-19, and its potential to be the source of the next global pandemic.

Video shows malicious acts of violence toward cows, gross neglect of calves
Help animals win the legal protections they so desperately need and deserve, and ensure they have an advocate in courtrooms and legislatures across the country.
Take Action Now