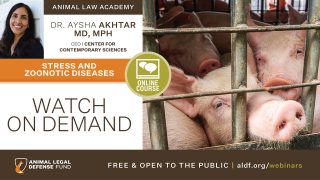 Stress and Zoonotic Diseases
Presented 6/23/20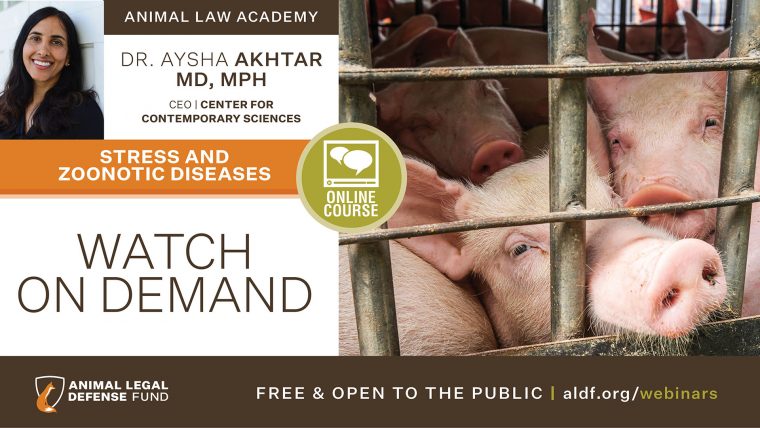 Why do public health officials tell us to socially distance (and rightly so), but fail to mention the animals crowded into factory farms–a major risk for the next pandemic?
Join public health expert Dr. Aysha Akhtar, Animal Legal Defense Fund Executive Director Stephen Wells, and Staff Attorney Kelsey Eberly for a round table discussion about the impacts of stress and confinement of animals on disease transmission — and conditions where they are most likely to jump to humans.
This webinar was pre-recorded. Watch it now!
Resources
Join the Animal Legal Defense Fund's email list to stay up to date on lawsuits, legislation, and regulations affecting animals.
Sign Up Now
Related
The Animal Legal Defense Fund released the second in a series of white papers — COVID-19 and Factory Farming —providing policy recommendations to address industrial animal agriculture's role in our heightened risk for zoonotic diseases outbreaks, like COVID-19, and its potential to be the source of the next global pandemic.

A coalition, led by the Animal Legal Defense Fund, filed an emergency petition with the USDA to prevent COVID-19 relief funds, resources, and any other forms of support from facilitating or compensating for the costs of ventilation shutdown or water-based foam "depopulation" — the mass killing of animals on factory farms.

The Animal Legal Defense Fund, the preeminent legal advocate for animals, released the first in a series of white papers providing policy recommendations to reduce our heightened risk from zoonotic diseases like COVID-19 and the next global pandemic, which need only a human-animal interaction to arise.