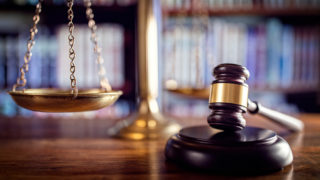 The Animal Legal Defense Fund provides these resources to help you learn how animal protection laws function within the legal system.
Animals and the Law
The field of animal law is complex. Use these articles as a guide to understand the fundamentals.
What You Can Do
Do you need help with a specific legal situation involving an animal? Our guides below are provided with that end in mind.
Other Resources

Elected officials want to hear from you. This is an easy way to look up their contact information.

The Collaborative Response Project supports a multidisciplinary response to animal crime through a partnership between local law enforcement agencies and a community veterinarian.

Concerned about animal abuse facilitated by Craigslist posts, an Animal Legal Defense Fund supporter began responding to "pet" ads in September 2020. After responding to more than 400 ads, the supporter shares their experiences and tips for helping protect animals being traded on the platform.

While Craigslist officially bans the sale of companion animals, in reality such sales are common on the platform, with sellers often using the term "rehoming" in order to skirt the ban. Scams are widespread, with unethical breeders and dealers frequently selling animals who are sick, stolen, or even nonexistent.

The fur industry kills more than 100 million animals every year. Most of these animals, including minks, foxes, and chinchillas, endure extreme cruelty before being slaughtered. Help protect these animals by passing a fur sale ban in your city or county.

The Animal Legal Defense Fund is expanding its existing "seed grant" program to also offer emergency grants to law schools who have had to cancel an animal law course for COVID-19 related reasons.

It's critical to stay vigilant and report suspected animal cruelty to local law enforcement whenever you see it. Here are the facts about dogfighting and the warning signs you should know.
Since 1979, the Animal Legal Defense Fund has been the leader in the fight to win animals the legal protection they so desperately need—and deserve. Your generous support is vital to our continued success.
FIND OUT MORE