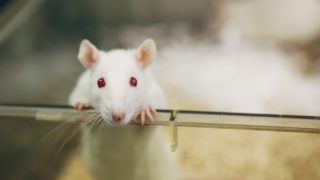 Federal Laws and Agencies Involved With Animal Testing
A brief guide to the main federal laws and agencies involved with animal testing
As you'll see, there are few laws protecting laboratory animals, and little regulatory oversight to ensure compliance with these laws.
The Animal Welfare Act, or AWA, is a federal law that addresses the standard of care animals receive at research facilities. This law excludes roughly 95 percent of the animals tested upon—such as rats, mice, birds, fish, and reptiles—and provides only minimal protections for the rest. Labs are not required to report non-AWA protected animals.
The Public Health Service, or PHS, oversees the two federal agencies doing the most testing on animals: the Food and Drug Administration (the FDA), and the Centers for Disease Control and Prevention (the CDC).
The PHS has a policy dictating vertebrate animal care for laboratories that receive federal funding, but the policy lacks enforcement and PHS's oversight is widely criticized as inadequate. The agency requires only written assurance of compliance through the Office of Laboratory Welfare,OLAW. When a facility is found deficient, OLAW takes little action, has no mandated follow-up or on-site inspection.
The United States Department of Agriculture:
The United States Department of Agriculture, or USDA, is the federal agency responsible for overseeing and inspecting laboratories that experiment on animals, as well as those who breed and sell animals for use in laboratories.
There are big problems with this agency's oversight. It's generally known that the agency is underfunded and understaffed, and thus unable to adequately fulfill this important task.
The USDA last reported that the agency employs only 120 inspectors, who are responsible for ensuring compliance for more than 12,000 facilities. These include not just laboratory animal facilities, but also those involved in the of exhibition, breeding and dealing of animals, like zoos, commercial dog breeders, circuses and more.
Even if the USDA were fully staffed and funded, penalties for non-compliance are often inconsequential in comparison to massive research revenues.
Additionally, federally-owned facilities, like the Department of Defense, are not inspected by the USDA. 
Other Regulatory Bodies:
There are some other regulatory bodies that purport to protect laboratory animals.
One of these is the Association for Assessment and Accreditation of Laboratory Animal Care, a private, nonprofit accreditation organization aimed at improving humane care for laboratory animals—though a damning 2014 report found that AALAC-accredited institutions are cited for more Animal Welfare Act violations than institutions not accredited by the organization.
Institutions that experiment on covered animals are also required under federal regulations to convene an Institutional Animal Care and Use Committee, which self-regulates experiments at their institutions. This body must include a veterinarian and one person not affiliated with the institution.
The IACUC's purpose is to review and approve protocols involving animals, and to ensure compliance. The committees are often criticized as being too cozy with researchers, leading to lax self-regulation.
Related
As the Animal Legal Defense Fund combats dogfighting by working with state officials to create stronger laws and more effective penalties for those who engage in this crime, we're also hard at work to ensure the best possible outcomes for dogfighting victims.

The Animal Legal Defense Fund, the nation's preeminent legal advocacy organization for animals, and Humane Rescue Alliance (HRA) are offering a $10,000 reward for information leading to the arrest and conviction of the person or people responsible for the abandonment and stabbing of a senior-aged dog named Ladybell on July 12, 2020.

Earlier this summer, the driver of a pig transport truck struck and killed longtime animal advocate Regan Russell. The circumstances regarding her death are not fully known to the public, but top to bottom, the animal agriculture industry is rarely held accountable.