Chihuahua Puppy Trapped in Crate and Set on Fire
California v. Willie Bee Turner
The Animal Legal Defense Fund offered a $5,000 reward that helped lead to the arrest and conviction of the person responsible setting a puppy on fire and leaving her to die.
Companion Animals
On January 22, 2015, a puppy was found burned to death, locked inside of a crate, on the sidewalk in Sacramento, California. The Animal Legal Defense Fund offered a $5,000 reward for information leading to the arrest and conviction of the person who committed this shocking act of cruelty.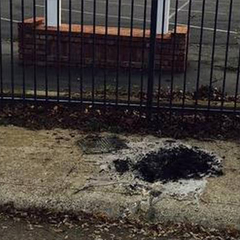 The reward helped lead to the arrest of Willie Bee Turner. Turner had been visiting a friend in Sacramento with his puppy Angel Star. Turner told his friend that he no longer wanted Angel Star, because she had worms. He was witnessed being physically violent with the puppy prior to her death.
In 2016, Turner was found guilty of malicious killing of an animal, animal abuse, and two counts of arson. Turner was sentenced to three years and eight months in prison, and prohibited from owning an animal for 10 years.
Recent News
The Animal Legal Defense Fund is offering our assistance in investigating the death of a zebra who died after being left out in last week's record breaking subzero weather in northern Indiana. We also renew our call for stronger animal protection laws.

In January 2019, the National Council of Juvenile and Family Court Judges (NCJFCJ), in partnership with the Animal Legal Defense Fund hosted the first-ever formal judicial convening focused on animal cruelty cases.

Dogs are members of the family - not a piece of furniture that can be leased. Send a message to your Washington legislator urging them to support HB 1476 and stop unfair and deceptive pet leasing practices.
Related Cases
Comments submitted to the FTC

State of Maryland v. Selvin Robin Gnanakkan
Puerto Rico's only zoo is not a safe place for animals. Please sign the petition below to help close the zoo and find these animals new homes.
Sign Petition