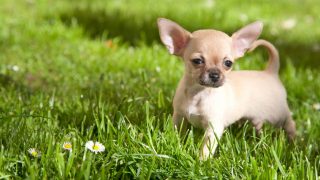 Reward Offer Leads to Conviction in Malicious Animal Cruelty Case
The Animal Legal Defense Fund Pays Reward to Crucial Tipster Who Helped Convict Suspect in Malicious Puppy Killing
SACRAMENTO, CA — May 2016, Willie Bee Turner was sentenced to three years and eight months in prison, and prohibited from owning an animal for 10 years, after the Sacramento County District Attorney's office secured a guilty verdict in a horrific dog torture case. A jury convicted Turner of maliciously killing an animal, animal abuse, and two counts of arson after he killed a Chihuahua puppy by setting her on fire and leaving her trapped in a crate while she burned to death. The Animal Legal Defense Fund paid $5,000 to a tipster who came forward and provided crucial information to investigators leading to Turner's arrest and conviction.
Turner, who was visiting a friend in Sacramento in January 2015, doused the puppy with bleach to punish her for defecating inside the home. The dog was later seen limping and smelling of bleach and alcohol. On January 21, neighbors reported a fire outside the Oak Plains Masonic Lodge on 3010 Becerra Way, near Watt and Marconi avenues. The fire turned out to be the burned puppy, who was heard whimpering and/or howling before Sacramento Metro Fire District firefighters arrived on the scene. Court testimony revealed that Turner had locked the puppy inside a crate and lit the puppy and bedding inside the crate on fire, leaving the dog to burn to death.
"In a case of such unfathomable cruelty, we are grateful to the hard work of investigators and prosecutors who ensured justice for this poor puppy and secured the maximum possible sentence for this dangerous individual," says Animal Legal Defense Fund Executive Director Stephen Wells.
The Animal Legal Defense Fund commends the great work of Deputy District Attorney Hilary Bagley and the Sacramento District Attorney's office for prosecuting this case to the fullest extent and will continue to offer rewards supporting the efforts of hard-working law enforcement to catch perpetrators of such unspeakable crimes against these voiceless victims.
For more information, please visit aldf.org.
Related
Alternative sentencing program in Fulton County, Georgia pairs shelter dogs with criminal defendants to offer both training and a second chance

Actress Christian Serratos narrates the Animal Legal Defense Fund film advocating for an end to puppy mills

Predatory financing law bans loans that often trap borrowers with high interest rates