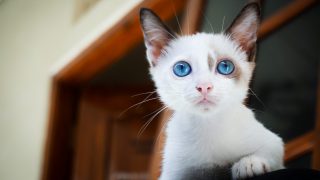 Animal Legal Defense Fund Offers $5,000 Reward in Case of Serial Cat Killer
Reward for information leading to the arrest and conviction of the person or people responsible for killing 13 cats in Thurston County
Contact: media@aldf.org
Thurston County, WA—The Animal Legal Defense Fund, the nation's preeminent legal advocacy organization for animals, is offering a $5,000 reward for information leading to the arrest and conviction of the person or people responsible for a series of gruesome cat killings. During the past seven months, the mutilated bodies of thirteen cats have been found in and around Lacey, Olympia, and Tumwater — with over half the victims killed in August alone.
The cats were found dead and partially dismembered. According to Thurston County Joint Animal Services Field Officer Erika Johnson, "injuries on several of the cats appear to be related in nature." Law enforcement officers further confirm that the cats' bodies each appear to have been "displayed" in public locations where their discovery would be likely. The similarities in how the cats were killed, and this "display" of their bodies, indicates that one person, or group of people, have committed all the killings.
In Washington State, killing an animal while manifesting extreme indifference to life, or in a way that causes undue suffering is a Class C felony — carrying a penalty of up to five years imprisonment, a $10,000 fine, or both.
"Violence against companion animals is one of the strongest predictors for other crimes and violent acts," said Animal Legal Defense Fund Executive Director Stephen Wells. "The brutality invoked by these killings is of concern to both the human and nonhuman members of Thurston County's community."
Thurston County, Lacey, Olympia, and Tumwater law enforcement officials have convened a task force to apprehend the perpetrator of these killings.
If you have information related to these incidents, please contact Crime Stoppers of South Sound at 1.800.222.TIPS (1.800.222.8477) or via their app (www.p3tips.com).
Related
Law enforcement officers and prosecutors who respond to crimes face a host of challenges. From neglected cows who are unable to testify, to dog fighting 'evidence' having puppies, the unexpected is a matter of course in the struggle against animal cruelty.

More than 100 prosecutors, veterinary professionals, and law enforcement officials from across the country will be meeting in Louisville next week for the Eighth Annual Animal Cruelty Prosecution Conference.

In May 2018, the Animal Legal Defense Fund filed a unique lawsuit in Oregon on behalf of a severely maltreated horse named Justice. Justice suffered starvation, frostbite, and other grave injuries due to his owner's failure to provide him with basic care.