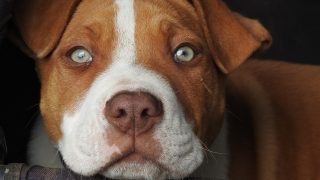 Reward of $5,000 Offered in Case of Pit Bulls Found Dead in Lucerne Valley
Contact: Natalia Lima, media@aldf.org
Incentive offered to spark new leads and encourage witnesses to come forward
The Animal Legal Defense Fund, the nation's preeminent legal advocacy organization for animals, is offering a $5,000 reward for information leading to the arrest and conviction of the person or people responsible for the death of a pair of pit bulls named Diamond and Sophia. After going missing from their Lucerne Valley home, the bodies of both dogs were found in early August 2016 along a nearby dirt road—tied, mangled and caked with mud.
The San Bernardino Sheriff's Rural Crimes Task Force and District Attorney's Animal Cruelty Prosecution Unit are continuing to investigate Diamond and Sophia's fate, which they describe as a "vicious crime."
Under California law, any person convicted of maliciously and intentionally killing an animal can be imprisoned for up to three years in county jail and/or fined $20,000 for animal cruelty. In California, it is at the district attorney's discretion whether animal cruelty is charged as a felony.
"We encourage anyone with information about Sophia and Diamond's untimely deaths to bravely come forward—so that these dogs can receive the justice they deserve," says Stephen Wells, executive director of the Animal Legal Defense Fund. "We thank the San Bernardino County Sherriff and DA's Offices for their efforts to hold the perpetrator accountable. "
If you have information related to this incident, please contact the San Bernardino County Animal Cruelty Prosecution Unit at 909-945-4400.
For more information visit, aldf.org.
Related
Ask your state legislators to support a bill that would prohibit people convicted of animal abuse from possessing animals for at least five years after their release from custody.

Animal protection coalition asks court to invalidate California Fish and Game Commission regulation for violating the California Environmental Quality Act.

Ask your state legislators to provide an opportunity for dogs and cats used in research to find loving homes once their time in a research laboratory has come to an end by supporting An Act Protecting Research Animals.