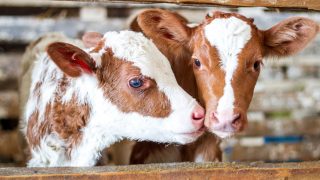 2018-2020: Farmed Animals & the Law
Student Chapters Program Guide
Each year, the Animal Legal Defense Fund provides resources to help its student chapters focus on a specific priority issue. The Student Chapter Program Guide contains an overview of the issue, the Animal Legal Defense Fund's involvement, and suggested activities, such as film screening suggestions, a reading list, and suggested speakers. This year's priority issue is Farmed Animals and the Law.
Overview
Legal Protection for Farmed Animals
It is estimated that nine billion land animals are raised and killed for food every year in the U.S. We don't even have an estimate for how many aquatic animals are killed in the U.S. every year, because the statistics kept are in tonnages, not individual beings. Many of these animals are subjected to near-unimaginable cruelty — much of which is perfectly legal, under current law.
Despite their vast numbers, and severity of abuse they suffer, farmed animals receive only minimal protections by our legal system. No federal laws govern the condition in which farmed animals are raised and most state anti-cruelty laws exempt farmed animals.
Farmed animals raised for the meat, dairy, and egg industries are among the most abused in the U.S. Investigations and industry whistleblowers have revealed abuses on farms and in slaughterhouses so horrific, most people cannot even bear to witness them.
Abuse takes place outside the law, but much of the cruelty consists of commonplace, legally sanctioned, standard industry practices.
These common, cruel, currently legal practices include:
Animals can have their testicles, tails, horns, beaks, or toes removed without anesthesia.
In most states, animals are intensively confined in spaces so small they cannot turn around, extend their wings, or lie down comfortably, as in gestation crates, veal crates, and battery cages.
Hens are systematically starved in order to artificially restart their egg-laying cycles.
Male chicks are ground up alive, and piglets are killed by slamming their heads on the ground.
Calves can be taken away from their mothers, mere moments after birth, causing distress for both. Calves raised for veal are so severely confined they cannot turn around or stretch their limbs.
The Animal Legal Defense Fund is working to change this. Farmed animals are every bit as capable of feeling pain and pleasure, as the animals who live with us as family members. We are fighting for stronger laws to protect farmed animals and better enforcement of those laws.
The Animal Legal Defense Fund's Lawsuits to Protect Farmed Animals
We have advocated for the protection of farmed animals in many ways, including:
Suggested Projects, Events, and Actions
To help fund your event, your chapter can apply for a project grant.
Education and Outreach
Organize an information table on campus to raise awareness about issues relating to Farmed Animals and the Law. We can provide free tabling materials that include newsletters, stickers, brochures (such as our Farmed Animals and the Law brochure), and posters to help with your event.
Encourage your school to add a farmed animal law course to the curriculum, or start a reading group. The Animal Legal Defense Fund offers a free Farmed Animal Law Course Guide and seed grants to support new classes. Contact us for a copy of the guide and for more information on the seed grants.
Guest Speakers
Host a speaker, debate, panel, or even a symposium or conference on Farmed Animals and the Law.
Attend the Animal Law Conference
Join us for this year's Animal Law Conference October 25-27, 2019 in Portland, OR! The Conference is co-presented by Animal Legal Defense Fund, the Center for Animal Law Studies at Lewis & Clark Law School, and the Lewis & Clark Student Chapter.
You also won't want to miss the Animal Legal Defense Fund Student Convention on Friday, October 12, 2018! Join us for an opportunity to meet fellow student chapter members, receive career advice from leaders in the animal law field, and get inspired for the weekend ahead. Registration is free for law students.
Your student chapter can apply for a $1,500 travel grant to attend the Student Convention and the Animal Law Conference.
Coalition Building
When planning a speaker panel or other event, we encourage you to look for opportunities to team up with other student groups. This will bring a wider audience to your event. Here are some groups and topics with cross-over potential:
Environmental Law Society: factory farms, environmental pollution from farming, animal agriculture caused climate change, fishing, the effects of farms on local wildlife
American Constitution Society: Ag-Gag laws, which criminalize taking photos and videos on farms and in slaughterhouses
Human Rights/Immigration Law Society: worker safety and human rights abuses on fishing boats, farms, and slaughterhouses
Criminal Law Society: prosecution of cruelty to farmed animals, the lack of laws that protect farmed animals
International Law Society: the effects farming animals has on wildlife and their habitats
Food Law Society: factory farming, labeling, false advertising and other consumer protection issues
Letter Writing and Commenting
Chapter members can write letters in response to any newspaper, magazine, or online article involving Farmed Animals and the Law.
At the administrative level, you can submit written comments to the U.S. Department of Agriculture, U.S. Fish and Wildlife Service, or other agencies when they are considering changes to rules and regulations. Stay up to date on new rules and comment periods.
Newsletters
Include news relating to Farmed Animals and the Law or your events on this issue in your chapter newsletters or emails. Check out the Animal Legal Defense Fund's press room for the latest updates on our cases and campaigns.
Become Active in Legislation
Organize your members to write letters and make follow-up phone calls regarding pending legislation.
Do you know who represents you? Find out, then contact them about pending local, state, or federal legislation. The best ways to reach your representatives are (in order of effectiveness): meeting them in person (at their office or a town hall meeting), calling, sending a written letter or fax (try this free online service), sending an email, and contacting them on social media.
Hold a call-a-thon event at your school to encourage students to call in favor or against a bill.
Attend a legislative hearing, trial, or a local Humane Lobby Day to meet legislators and talk about animal law issues.
Check city and state government websites to stay up to date on current legislation, or contact us to see if there is pending legislation in your area.
For more tips on how to effectively contact your lawmakers, see this article from For All Animals.
Film Screenings
Screen films related to Farmed Animals and the Law.
Film Suggestions
New films:

Game Changers is a revolutionary new documentary about meat, protein, and strength. It tells the story of James Wilks — elite Special Forces trainer and The Ultimate Fighter winner — as he travels the world on a quest to uncover the optimal diet for human performance.
The Last Pig follows a farmer through his last year of farming pigs, the struggle to reinvent his life, and the ghosts that will haunt him forever. The film raises crucial questions about equality, the value of compassion and the sanctity of life.
Dominion exposes the dark underbelly of modern animal agriculture through drones and hidden cameras, exploring the morality and validity of our dominion over the animal kingdom.
The End of Meat envisions a future where meat consumption belongs in the past. The film reveals the hidden impact of meat consumption; explores the opportunities and benefits of a shift to a more compassionate diet; and raises critical questions about the future role of animals in our society.

Older films:
Reading List
Fish Are Getting Their Animal Rights Moment (2018) by Marc Gunther, Civil Eats.
At Hamburger Central, Antibiotics for Cattle That Aren't Sick (2018) by Danny Hakim, New York Times.
Working 'The Chain,' Slaughterhouse Workers Face Lifelong Injuries (2017) by Peggy Lowe, NPR.
Health Leaders Must Focus on the Threats From Factory Farms (2017) by Scott Weathers, Sophie Hermanns & Mark Bittman, the New York Times.
What to Make of Those Animal-Welfare Labels on Meat and Eggs (2017) by Stephanie Strom, New York Times.
First Criminal Charges Filed under California's Prevention of Farm Animal Cruelty Act (2017) by the Animal Legal Defense Fund.
Industrial Farming is Driving the Sixth Mass Extinction of Life on Earth, says Leading Academic (2017) by Ian Johnston, The Independent.
Massachusetts Farmed Animal Ballot Measure Survives Constitutional Challenge (2016) by the Animal Legal Defense Fund.
The Harrowing Psychological Toll of Slaughterhouse Work (2016) by Ashitha Nagesh, Metro UK.
Customary Cruelty in the Farm Industry: When Animal Abuse is Legal (2015) by Kelly Levenda, One Green Planet.
Animal Cruelty Is the Price We Pay for Cheap Meat (2013) on Rolling Stone.
Speaker Suggestions
Animal Legal Defense Fund Speakers
You can request an attorney from our Litigation, Criminal Justice, and Legislative Affairs Programs as a speaker for your event. To request an Animal Legal Defense Fund speaker, please submit the form at the bottom of this page.
Online Lectures
Hold a chapter event to view an upcoming or recorded webinar from our Animal Law Academy, Animal Law Conference, or Animal Law Symposium.
Ag-Gag Laws in the Animal Law Academy
Other Speakers
Please note: non-Animal Legal Defense Fund speakers may require honoraria, which we do not fund.
Related
First ruling pertaining to recently enacted Big Cat Public Safety Act

Bill will reduce the risk of zoonotic disease transmission by phasing out mink farming and help operators transition out of the industry

Third denial to review first state-wide ban, starting in 2014