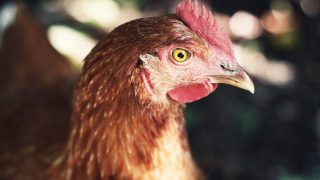 Trader Joe's Cage-Free Egg Lawsuit Reaches Settlement in a Win for Truth in Advertising
Grocery chain pulls misleading egg cartons nationwide that featured false pastoral images of hens
Contact: media@aldf.org
Oakland, CA –Today the Animal Legal Defense Fund announces a settlement in its consumer protection lawsuit against Trader Joe's Company. The lawsuit, filed in California Superior Court on behalf of Trader Joe's egg purchaser Carolyn Claybaugh, argued that Trader Joe's was violating multiple California consumer protection laws by selling cage-free eggs in cartons with imagery misrepresenting the conditions in which hens used by the egg industry are confined. In a laudable move, Trader Joe's responded quickly, discontinuing the use of the misleading packaging nationwide as part of a settlement.
The lawsuit took aim at Trader Joe's Cage-Free eggs packaging. Cartons were emblazoned with images of hens foraging outdoors in green, wide-open pastures. But in reality, these eggs come from hens who spend their entire lives inside massive industrial hen houses without any outdoor access. Hens are packed into warehouses with thousands of other birds and never set foot in grass or engage in their natural behaviors outdoors. The lawsuit contended that the images used on the package mislead consumers about the conditions in which hens were raised.
"There's widespread confusion among consumers about egg labeling due to the failure of the federal government to properly regulate egg labels. It's important for consumers to realize that 'cage-free' doesn't mean 'cruelty-free,'" says Animal Legal Defense Fund Executive Director Stephen Wells. "Consumers are demanding production methods that cause less animal suffering. Unfortunately, the lack of labeling regulations allows egg producers to mislead consumers with undefined terms like 'natural,' 'cage-free,' and 'free range,' or with slogans and imagery depicting idyllic scenarios that do not match the cruel reality of life for most laying hens."
In 2010, the Animal Legal Defense Fund petitioned several federal agencies to issue regulations requiring accurate labeling of egg packaging so consumers could make informed choices. Unfortunately, the U.S. Department of Agriculture, the Food and Drug Administration, and the Federal Trade Commission refused to do so despite their statutory mandates. This forces concerned citizens to hold producers and sellers of eggs accountable through false advertising laws.
In response to the Animal Legal Defense Fund's action, Trader Joe's is pulling the packaging not only in California, but nationwide.
The Animal Legal Defense Fund thanks the law firm of Fazio Micheletti LLP for serving as co-counsel in this case.
Related
The U.S. Court of Appeals for the Fourth Circuit handed an important win to plaintiffs in a lawsuit challenging North Carolina's Ag-Gag law, ruling that undercover investigations and whistleblowing are considered newsgathering activities protected by the First Amendment.

Public interest coalition celebrates another win against unconstitutional statute barring undercover investigations at factory farms

Edie Falco narrates the Animal Legal Defense Fund film demanding transparency in factory farming