La Toque Restaurant Illegally Selling Foie Gras
Animal Legal Defense Fund v. LT Napa Partners, LLC
We sued La Toque restaurant for selling foie gras in violation of California law. The case is paused, pending the outcome of a constitutional challenge to the foie gras ban in a separate federal case.
Farmed Animals
Status
Will resume case when the constitutional challenge is resolved
California lawmakers enacted a ban on the production and sale of foie gras in 2004, due to the cruelty involved: geese and ducks are force fed large quantities of food in order to make the animals' livers grow large and fatty. The law went into effect in 2012.
That year, an investigator sent by the Animal Legal Defense Fund found a Napa restaurant, La Toque, violating the ban by serving foie gras as a "gift" accompanying an expensive tasting menu. When law enforcement agencies failed to take action after being presented with this evidence, we filed a lawsuit in state court against the company that owns the restaurant, LT Napa Partners.
La Toque attempted to get our claims dismissed, but we fought their efforts in court until we secured a victory. In March 2015 the California Court of Appeal for the First Appellate District rejected La Toque's arguments against our suit, and in June, the Supreme Court of California denied their petition for review, letting stand the appellate court's decision in our favor.
The Animal Legal Defense Fund looks forward to resuming its case against La Toque if and when the federal constitutional challenge is resolved.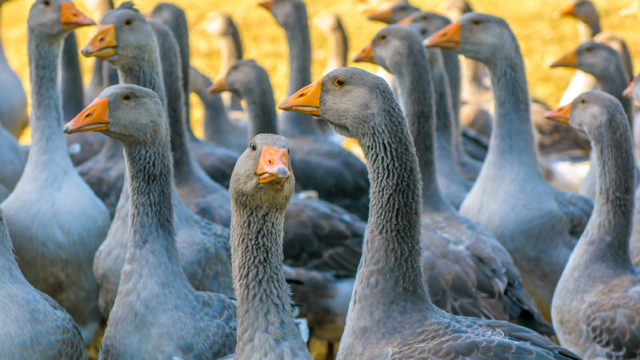 Recent News
All animals from Jim Mack's Ice Cream shop, including alpacas, a llama, emus, peacocks, rabbits, chickens, goats, and a goose, were transferred to rescues.

On Dec. 14, 2016, a federal judge granted summary judgment to the U.S. Department of Agriculture (USDA) in a lawsuit brought by the Animal Legal Defense Fund, Compassion Over Killing, Farm Sanctuary, the Animal Protection and Rescue League and three individuals to compel the agency to declare foie gras a diseased product unsuitable for human consumption, thereby removing it from the food supply.

Contact: Natalia Lima, media@aldf.org Regarding the case ALDF et. al. v. USDA et. al., the Animal Legal Defense Fund is gratified that the U.S. District Court for the Central District of California held that the organization had…
Related Cases
Illinois Restaurant Association v. City of Chicago