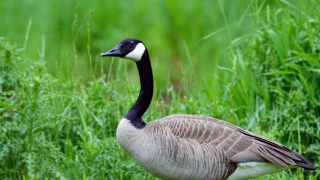 Lawsuit Challenges USDA Redaction of Geese Culling Contract
Lawsuit alleges the concealment of expected number and payment per bird slaughtered is illegal
Contact: media@aldf.org
WASHINGTON, D.C. — Today, the Animal Legal Defense Fund filed a lawsuit against the United States Department of Agriculture (USDA) under the Freedom of Information Act (FOIA) over the agency's critical redactions in a contract between the USDA's Wildlife Services program and a Colorado slaughterhouse, outlining plans for slaughtering geese rounded up in parks across Denver. The geese were to be killed as part of a highly controversial program to reduce the birds' population.
The Animal Legal Defense Fund originally filed a Freedom of Information Act (FOIA) request with USDA Wildlife Services in November 2019, seeking to learn the number of geese the City of Denver planned to cull. The USDA's response to that request included the slaughterhouse contract, however, the number of birds expected to be killed and price paid per slaughtered bird were redacted. The Animal Legal Defense Fund filed an appeal in March 2020 seeking the redacted information, but the USDA has not responded, prompting the lawsuit.
"Hundreds of geese have been killed over the past two years at the behest of the City of Denver, despite widespread public objection, and now the USDA Wildlife Services is hiding details about the number of birds slated to be killed and the cost per slaughtered bird," says Animal Legal Defense Fund Executive Director Stephen Wells. "Both the city and the USDA are public agencies using public tax dollars and resources. The public has a legal right to know the true scale of this slaughter and its costs and the Animal Legal Defense Fund will defend that right. The USDA's lack of transparency begs the question, 'What are they trying to hide?'"
The City of Denver has rounded up and slaughtered geese over the last two years with the intent to permanently reduce the birds' population in city parks. In 2019 alone, more than 1,600 geese were rounded up and killed from Washington, Garfield, Sloan's Lake, and City parks.
Animal Legal Defense Fund is being represented by students and staff in the Environmental Law Clinic at the University of Denver Sturm College of Law.
For years, concerned residents have been outraged by the killing of Canada geese rounded up in parks across Denver. As a taxpayer, you have the right to know how Wildlife Services uses your dollars and whether its methods are humane and science-based.
TAKE ACTION
Related
The USDA fought to keep the numbers hidden from public view, ultimately paying $15,000 in attorneys fees in settlement

The Animal Legal Defense Fund applauds Speaker Corey Johnson and the NYC Council for voting to end the sale of foie gras. Intro 1378, sponsored by Council Member Carlina Rivera, now moves to Mayor de Blasio, who is expected to sign the bill into law.

Restaurant Vows to Cease Foie Gras "Giveaways" Declared Illegal by Appellate Court.