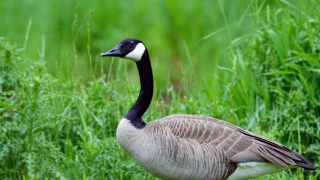 Demand Transparency from Wildlife Services, the Federal Killing Agency
This action is for US residents only.
Millions of native wild animals, including coyotes, mountain lions, and even geese, are killed indiscriminately by Wildlife Services — a program of the U.S. Department of Agriculture's (USDA) Animal and Plant Health Inspection Service (APHIS). Nationally, Wildlife Services kills more than one million animals annually, costing taxpayers more than $100 million per year, using outdated cruel methods not grounded in science.
Wildlife Services conducts much of its activities in secrecy to avoid public scrutiny. In the fall of 2020, the Animal Legal Defense Fund filed a lawsuit against the USDA under the Freedom of Information Act over a lack of transparency in a contract between Wildlife Services and a Colorado slaughterhouse that outlines plans for slaughtering geese rounded up in parks across Denver. The USDA has refused to reveal the number of birds expected to be killed and the price per slaughtered bird. In 2019 alone, more than 1,600 geese were rounded up and killed from city parks.
Despite public outcry, hundreds of geese have been killed over the last two years in Denver. And the USDA is hiding the details about the extent of the slaughter and its costs.
Unfortunately, this isn't an isolated incident. Wildlife Services routinely obscures the truth about its methods and the extent of its killing because it knows the public doesn't supports its methods.
Sign your name below if you agree that Wildlife Services should operate with transparency.
Petition Language
Wildlife Services, financed by taxpayer dollars, must make its operations and activities transparent and contracts accessible to the public. As a taxpayer, I have the right to know how Wildlife Services uses my dollars and whether its methods are humane and science-based.

Join the Animal Legal Defense Fund's email list to stay up to date on lawsuits, legislation, and regulations affecting animals.
Sign Up Now
Related
The USDA fought to keep the numbers hidden from public view, ultimately paying $15,000 in attorneys fees in settlement

The Animal Legal Defense Fund filed a lawsuit against the United States Department of Agriculture (USDA) under the Freedom of Information Act (FOIA) over the agency's critical redactions in a contract between the USDA's Wildlife Services program and a Colorado slaughterhouse, outlining plans for slaughtering geese rounded up in parks across Denver.

The Animal Legal Defense Fund applauds Speaker Corey Johnson and the NYC Council for voting to end the sale of foie gras. Intro 1378, sponsored by Council Member Carlina Rivera, now moves to Mayor de Blasio, who is expected to sign the bill into law.