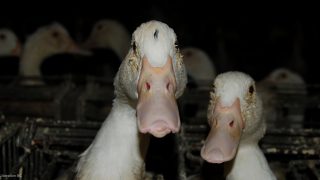 California Supreme Court Rejects Napa Restaurant's Attempts to Flout Foie Gras Ban
Animal Legal Defense Fund's Challenge to La Toque's Violations Moves Forward
Contact: media@aldf.org
San Francisco, CA — Yesterday, the Supreme Court of California rejected the Napa restaurant La Toque's attempt to circumvent the state's ban on selling foie gras. La Toque argued that a lawsuit filed by the Animal Legal Defense Fund should be dismissed because the restaurant was merely "giving away" the so-called delicacy.
The California Court of Appeal roundly rejected that claim in March, holding that the Animal Legal Defense Fund is likely to succeed in its claims that La Toque is illegally selling foie gras by providing it to paying customers.
Today, the Supreme Court of California denied La Toque's petition for review, letting stand the appellate court's decision and allowing for the case against La Toque to proceed.
Foie gras is made by force-feeding young ducks until their livers balloon eight or more times their natural size, then slaughtering them for these diseased livers. The ban, which went into effect in 2012, was spurred by evidence of force-fed ducks in Sonoma, CA who were fattened so inhumanely they could not escape being eaten alive by rats in dark, filthy pens.
Despite the state ban, the Animal Legal Defense Fund's undercover investigations have revealed that La Toque routinely sells foie gras, the enlarged livers of force-fed birds, in clear violation of California Health and Safety Code § 25982.
The case will now be remanded for further proceedings before the state trial court, where Animal Legal Defense Fund will ask for attorneys' fees for defending against La Toque's frivolous motion for two years, and press for a court order prohibiting additional foie gras sales. Although a federal judge ruled the state ban on foie gras to be unconstitutional earlier this year, that ruling is likely to be reversed on appeal and does not bind state courts.
"Today's decision shows that La Toque's violation of animal protection laws is frivolous and without legal merit," said Stephen Wells, Animal Legal Defense Fund's executive director. "La Toque's sales of foie gras contribute to the suffering of hundreds of thousands of birds."
Related
The USDA fought to keep the numbers hidden from public view, ultimately paying $15,000 in attorneys fees in settlement

The Animal Legal Defense Fund filed a lawsuit against the United States Department of Agriculture (USDA) under the Freedom of Information Act (FOIA) over the agency's critical redactions in a contract between the USDA's Wildlife Services program and a Colorado slaughterhouse, outlining plans for slaughtering geese rounded up in parks across Denver.

Animals rescued from backyard slaughter operation near Fort Meyers, Florida are now headed to sanctuaries.