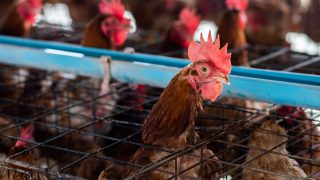 First Criminal Charges Filed under California's Prevention of Farm Animal Cruelty Act
By Nicole Pallotta, Academic Outreach Manager
In February 2017, the first criminal charges were brought under California's Prevention of Farm Animal Cruelty Act, also known as Proposition 2. The San Bernardino County District Attorney's Office filed more than 50 charges against an Ontario, California egg facility, Hohberg Poultry Ranches, after investigations revealed chickens were being kept in cages so overcrowded the animals were unable to turn around—conditions outlawed by the Prevention of Farm Animal Cruelty Act.
The Prevention of Farm Animal Cruelty Act passed via state ballot initiative by a 64% majority of California voters in 2008. The law, which came into effect in January 2015, requires that egg-laying hens have the ability to fully spread their wings without touching another bird or the side of an enclosure.
In addition to 39 counts of violating the Prevention of Farm Animal Cruelty Act, prosecutors also charged Hohberg Poultry Ranches with 16 counts of animal cruelty under California's state animal cruelty code, Penal Code 597(b).
The charges stem from a 2016 investigation conducted by the Inland Valley Humane Society, the Ontario Police Department, The Humane Society of the United States, and the Animal Cruelty Prosecution Unit of the San Bernardino District Attorney's Office, following a complaint that hens were being kept in "inhumane" and "deplorable" conditions. According to Deputy District Attorney Debbie Ploghaus, who oversees the Animal Cruelty Prosecution Unit:
"Upon serving the search warrant, we found approximately 28,800 hens in unsanitary conditions that clearly violated the Farm Animal Cruelty Act. In some instances, we found dead hens decaying in the same cages beside living hens laying eggs for human consumption."
As reported by the Los Angeles Times, Hohberg Poultry Ranches received a warning letter from the Food and Drug Administration in 2012 after serious human health violations were found during inspections. San Bernardino County District Attorney Michael Ramos, who brought the charges, said:
"While we are obviously concerned about the health of our citizens, at the end of the day, we also have a lawful obligation to ensure that animals in our county are being treated humanely. The overcrowded conditions these animals were forced to live in were cruel. It was a horrible existence."
District Attorney Ramos, who created the Animal Cruelty Prosecution Unit just under a year ago, in April 2016, told local news station ABC7 the egg facility was in clear violation of the law, saying of the cramped conditions endured by the birds: "I think it's horrendous. They start trying to get out and they start pecking one another. It's just a horrendous situation."
The owner of the facility, Robert Hohberg, pled not guilty to all charges at his March 7 arraignment in San Bernardino Superior Court. If convicted, he could face up to 180 days in jail for each cage size violation and one year for each animal cruelty count.
California became a leader in U.S. efforts to prevent the most egregious forms of cruelty to farmed animals with the 2008 passage of the Prevention of Farm Animal Cruelty Act, which mandated that animals be housed in conditions that allow them enough space to turn around freely, lie down, stand up and fully extend their limbs. The law has thus far withstood multiple challenges from the agriculture industry, most recently in November 2016, when the Ninth Circuit Court of Appeals upheld a lower court's dismissal of a lawsuit brought by six states that argued provisions in California's law violated the Commerce and Supremacy Clauses of the U.S. Constitution.
The Animal Legal Defense Fund is also working to ensure the California animal agriculture industry is held accountable to the state's improved housing standards for farmed animals.
On March 15, 2017, we sued the California Department of Food and Agriculture (CDFA) for violating the California Public Records Act by unlawfully withholding records regarding living conditions of egg-laying hens in factory farms.
We requested these records in August 2016 to determine factory egg farms' compliance with California's Prevention of Farm Animal Cruelty Act and the Shell Egg Food Safety Regulations that were instituted after its passage.
California residents who voted to pass the Prevention of Farm Animal Cruelty Act have a compelling interest in ensuring the law is enforced, and there is little information currently available regarding egg producers' compliance with the new standards.
Beyond California, the Animal Legal Defense Fund is leading the charge to reform factory farming through the courts, in part by advocating for greater transparency and against Ag-Gag laws, which are designed to prevent the public from learning about animal cruelty by criminalizing whistleblowers who reveal animal abuse.
Although the mistreatment of farmed animals is often hidden from public view, consumers are increasingly aware of the substandard conditions in which animals raised for food are routinely kept prior to their slaughter, due in part to undercover investigations by animal protection organizations.
In November 2016, Massachusetts voters overwhelmingly approved Question 3, An Act to Prevent Cruelty to Farm Animals, which is similar to California's Prevention of Farm Animal Cruelty Act, but goes further.
California's law bans the sale of eggs from hens kept in cages too small for them to stand up, lie down, or turn around, but Massachusetts is the first state to ban the sale of meat products as well as eggs from animals confined in this manner. Once it goes into effect in 2022, this new legislation—which passed by a landslide with 78 percent of voters in favor of the law—will be stronger than any similar law in the U.S.
However, even the strongest laws are meaningless without enforcement, and prosecutors have historically been reluctant to pursue cruelty charges involving farmed animals. The San Bernardino County District Attorney's Office's willingness to bring these animal cruelty charges and hold the agriculture industry accountable to the minimal standards enacted by California voters sends a clear message that times are changing. The Animal Legal Defense Fund named District Attorney Michael Ramos one of the Top 10 Animal Defenders for 2017.
Further Reading:
Related
The U.S. Court of Appeals for the Fourth Circuit handed an important win to plaintiffs in a lawsuit challenging North Carolina's Ag-Gag law, ruling that undercover investigations and whistleblowing are considered newsgathering activities protected by the First Amendment.

Following the dismissal of Justice's case upheld on appeal, the Animal Legal Defense Fund continues to seek accountability under the law.

Public interest coalition celebrates another win against unconstitutional statute barring undercover investigations at factory farms