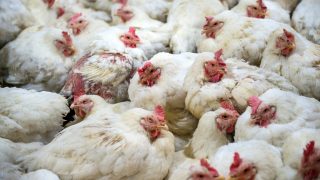 Animal Legal Defense Fund Sues California Department of Food and Agriculture to Release Records about Conditions of Egg-Laying Hens
Public Records Lawsuit Filed to Ensure Proposition 2 is Enforced
Contact: media@aldf.org
Sacramento, CA – Today, the Animal Legal Defense Fund, the nation's preeminent legal advocacy organization for animals, sued the California Department of Food and Agriculture (CDFA) for violating the California Public Records Act by unlawfully withholding records regarding living conditions of egg-laying hens in factory farms. The Animal Legal Defense Fund requested these records in August 2016 in order to determine factory egg farms' compliance with the state Shell Egg Food Safety regulations and California's Prevention of Farm Animal Cruelty Act, also known as Proposition 2.
The Shell Egg Food Safety regulations were instituted after the passage of Proposition 2, a farm animal protection law that California citizens voted for overwhelmingly in 2008.
Part of Proposition 2 mandates that egg-laying hens be given enough space to spread their wings without touching either side of the enclosure or other hens. It is standard for factory egg farms to intensively confine egg-laying hens in cages so small that a bird has the space of only a single sheet of paper, preventing most natural behaviors.
Though the Shell Egg Food Safety regulatory requirement of a few extra inches per hen is not sufficient to comply with Proposition 2, the records produced through CDFA's Shell Egg Food Safety inspections will also reveal whether facilities have violated Proposition 2's increased space requirements.
"Californians have made it clear they care about the conditions of egg-laying chickens by passing Proposition 2," says Animal Legal Defense Fund Executive Director Stephen Wells. "It is their right to ensure it is being enforced and that chickens are benefiting from the landmark animal protection law."
In response to the Animal Legal Defense Fund's initial request, the CDFA produced some records but redacted cage floor dimensions on the grounds that they constitute trade secrets.
The Animal Legal Defense Fund argues that CDFA's claim of trade secrets is inappropriate because egg producers do not create their own cages. Instead, egg producers purchase cages from large companies that specialize in egg industry equipment. The dimensions of their cages are widely available and easily accessible.
Regardless, the release of these records are in the public interest. In addition to the California Public Records Act's policy in favor of transparency, residents have a compelling interest in ensuring the law is enforced, and there is little information currently available regarding egg producers' compliance with Proposition 2.
Related
Animal Legal Defense Fund sues Foster Farms for violating California law by using cruel, water-intensive slaughter method during megadrought

A series of billboards, in English and Spanish, are launching near slaughterhouses across the country — offering an online tip portal where industrial animal agriculture workers can report any concerns. Joaquin Phoenix partnered with the Animal Legal Defense Fund in offering and promoting ReportAnimalAg.com to allow individuals to remain anonymous.

Animals rescued from backyard slaughter operation near Fort Meyers, Florida are now headed to sanctuaries.