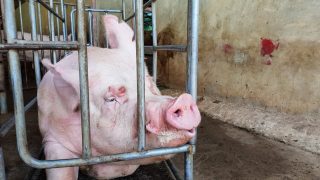 Short Film Released Following Three Appellate Court Decisions Concerning Ag-Gag Challenges
Edie Falco narrates the Animal Legal Defense Fund film demanding transparency in factory farming
Contact: media@aldf.org
SAN FRANCISCO — Today, the Animal Legal Defense Fund released The Dangers of Ag-Gag Laws, a short film narrated by actress and star of FX Network's Impeachment: American Crime Story, Edie Falco. The film urges action on Ag-Gag laws, which seek to "gag" would-be whistleblowers and undercover investigators by punishing them for recording footage of what goes on in animal agriculture. The 13-minute film uncovers how Ag-Gag laws flout the First Amendment and conceal pollution, food safety threats, and animal cruelty.
The film is available at aldf.org/aggag.
Though laws have been proposed in more than half of states in the U.S., many have been defeated in the legislature. Just over half of the laws passed, typically in large agricultural states, have been challenged by coalitions — led by the Animal Legal Defense Fund — alleging the laws are unconstitutional. The barrage of lawsuits and appeals came to a head in August 2021, with a flurry of decisions issued in a matter of weeks.
On August 9, 2021, the Eighth Circuit Court of Appeals revived an Animal Legal Defense Fund challenge, initially dismissed by a lower court, to Arkansas' Ag-Gag law.
On August 10, 2021, the Eighth Circuit also issued a decision in the challenge to Iowa's first Ag-Gag law, affirming the lower court's injunction against the law's "Employment Provision," noting it was overly broad and did not satisfy constitutional scrutiny.
Also, on August 10, 2021, the Animal Legal Defense Fund filed a lawsuit challenging yet another Iowa Ag-Gag law—this one, criminalizing photography or videography while "trespassing" in an animal agriculture facility — marking the third Ag-Gag law challenged in the state by the Animal Legal Defense Fund-led coalition.
On August 19, 2021, the Tenth Circuit Court of Appeals affirmed a lower court decision striking down Kansas' Ag-Gag law as unconstitutional under the First Amendment, stating in the decision: "Simply put, the 'harm' Kansas seeks to avoid is the type of harm that is not only legally non-cognizable but legally protected: that arising out of true speech on a matter of public concern."
"The use of undercover video in industrial animal agriculture facilities, which Ag-Gag laws attempt to ban, is critical to holding the industry accountable for not only the inhumane treatment of animals, but environmental impacts, threats to food safety, unsafe working conditions, and stifling free speech," says Animal Legal Defense Fund Executive Director Stephen Wells. "Each of these lawsuits is about upholding individuals' First Amendment rights — in the pursuit of transparency in the country's food system — versus the protection of corporate industry. This should concern all Americans."
For more than a century, the public has relied on undercover investigations to expose illegal and cruel practices on factory farms and in slaughterhouses. No federal laws govern the condition in which farmed animals are raised for food, and the two laws addressing slaughter and transport are laxly enforced. Undercover investigations are the primary avenue through which the public receives information about animal agriculture operations.
There are nine lawsuits challenging state Ag-Gag laws around the country. In addition to the recent decisions in cases in Iowa, Kansas, and Arkansas, earlier lawsuits have resulted in courts striking down similar laws in North Carolina, Idaho, Utah, and Wyoming. North Carolina has appealed — with a decision pending.
Copies of the decisions are available upon request.
Join the Animal Legal Defense Fund's email list to stay up to date on lawsuits, legislation, and regulations affecting animals.
Sign Up Now
Related
Cows were killed in Madison, Brazos, and Robertson Counties, Texas.

The U.S. Court of Appeals for the Fourth Circuit handed an important win to plaintiffs in a lawsuit challenging North Carolina's Ag-Gag law, ruling that undercover investigations and whistleblowing are considered newsgathering activities protected by the First Amendment.

Public interest coalition celebrates another win against unconstitutional statute barring undercover investigations at factory farms