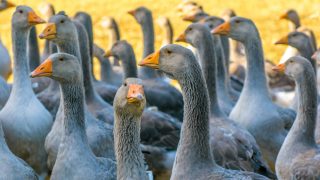 After a long legal battle, California's foie gras ban is in full effect, and restaurants and stores are now unambiguously barred from selling the cruelly-produced, high-priced "gourmet" delicacy made from the liver of a duck or goose.
Ducks used by the foie gras industry suffer immensely. Foie gras producers force-feed birds until their livers swell to many times their normal size, inducing hepatic lipidosis, a painful and often fatal disease.
We need your help in identifying California restaurants and retailers that are flouting the foie gras law.
If you see foie gras in restaurants or stores, please report your sighting of illegal foie gras to the police, then fill out the submission form below and submit your photos to help us ensure this anti-cruelty measure is being followed and protecting ducks as it is meant to.
Related
As the Animal Legal Defense Fund combats dogfighting by working with state officials to create stronger laws and more effective penalties for those who engage in this crime, we're also hard at work to ensure the best possible outcomes for dogfighting victims.

The Animal Legal Defense Fund, the nation's preeminent legal advocacy organization for animals, and Humane Rescue Alliance (HRA) are offering a $10,000 reward for information leading to the arrest and conviction of the person or people responsible for the abandonment and stabbing of a senior-aged dog named Ladybell on July 12, 2020.

Earlier this summer, the driver of a pig transport truck struck and killed longtime animal advocate Regan Russell. The circumstances regarding her death are not fully known to the public, but top to bottom, the animal agriculture industry is rarely held accountable.