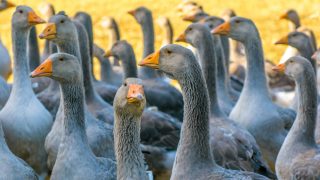 After a long legal battle, California's foie gras ban is in full effect, and restaurants and stores are now unambiguously barred from selling the cruelly-produced, high-priced "gourmet" delicacy made from the liver of a duck or goose.
Ducks used by the foie gras industry suffer immensely. Foie gras producers force-feed birds until their livers swell to many times their normal size, inducing hepatic lipidosis, a painful and often fatal disease.
We need your help in identifying California restaurants and retailers that are flouting the foie gras law.
If you see foie gras in restaurants or stores, please report your sighting of illegal foie gras to the police, then fill out the submission form below and submit your photos to help us ensure this anti-cruelty measure is being followed and protecting ducks as it is meant to.
Related
The U.S. District Court for the Central District of California dismissed the industry's constitutional challenge in its entirety, and forbade the plaintiffs from trying to renew those claims.

The Animal Legal Defense Fund filed a lawsuit against the U.S. Department of Agriculture (USDA) for issuing a final rule allowing pig slaughterhouses nationwide to police themselves and kill pigs at very high line speeds.

Ask your state legislators to provide an opportunity for dogs and cats used in research to find loving homes once their time in a research laboratory has come to an end by supporting An Act Protecting Research Animals.