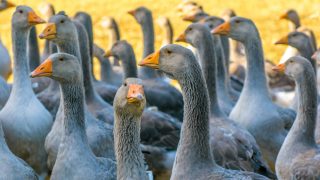 After a long legal battle, California's foie gras ban is in full effect, and restaurants and stores are now unambiguously barred from selling the cruelly-produced, high-priced "gourmet" delicacy made from the liver of a duck or goose.
Ducks used by the foie gras industry suffer immensely. Foie gras producers force-feed birds until their livers swell to many times their normal size, inducing hepatic lipidosis, a painful and often fatal disease.
We need your help in identifying California restaurants and retailers that are flouting the foie gras law.
If you see foie gras in restaurants or stores, please report your sighting of illegal foie gras to the police, then fill out the submission form below and submit your photos to help us ensure this anti-cruelty measure is being followed and protecting ducks as it is meant to.
Related
Companion, farmed, and wild animals have been lost, injured, or killed during fireworks displays

The California Court of Appeals affirmed a ruling by a lower court recognizing Society for the Prevention of Animal Cruelty (SPCA) organizations' ability to file lawsuits against entities that violate existing animal protection laws.

Reward for information leading to the arrest and conviction of the person or people responsible for illegally shooting and killing a red wolf in Tyrrell County, North Carolina.