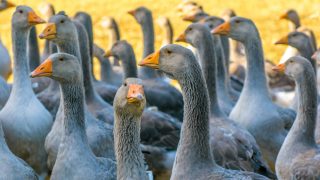 After a long legal battle, California's foie gras ban is in full effect, and restaurants and stores are now unambiguously barred from selling the cruelly-produced, high-priced "gourmet" delicacy made from the liver of a duck or goose.
Ducks used by the foie gras industry suffer immensely. Foie gras producers force-feed birds until their livers swell to many times their normal size, inducing hepatic lipidosis, a painful and often fatal disease.
We need your help in identifying California restaurants and retailers that are flouting the foie gras law.
If you see foie gras in restaurants or stores, please report your sighting of illegal foie gras to the police, then fill out the submission form below and submit your photos to help us ensure this anti-cruelty measure is being followed and protecting ducks as it is meant to.
Related
The $25,000 scholarship is available to a second-year law student at the University, and includes a clerkship with the nonprofit

International Fur Trade Federation's amended complaints dismissed in decisive victory for animals

This week the Animal Legal Defense Fund submitted comments to the U.S. Food and Drug Administration (FDA) advocating for accurate, consistent, and flexible labeling of cell-cultured fish and shellfish products — meat or flesh grown from the cells of fresh or saltwater finfish, crustaceans, and other forms of aquatic animal life.