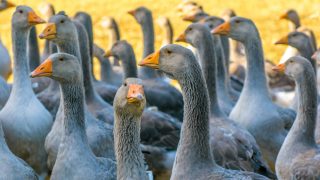 After a long legal battle, California's foie gras ban is in full effect, and restaurants and stores are now unambiguously barred from selling the cruelly-produced, high-priced "gourmet" delicacy made from the liver of a duck or goose.
Ducks used by the foie gras industry suffer immensely. Foie gras producers force-feed birds until their livers swell to many times their normal size, inducing hepatic lipidosis, a painful and often fatal disease.
We need your help in identifying California restaurants and retailers that are flouting the foie gras law.
If you see foie gras in restaurants or stores, please report your sighting of illegal foie gras to the police, then fill out the submission form below and submit your photos to help us ensure this anti-cruelty measure is being followed and protecting ducks as it is meant to.
Related
Today the U.S. District Court for the District of Minnesota issued a critical ruling in favor of wolves' legal protection — determining that gray wolves are not excluded from the Endangered Species Act even if they have some detectable dog genes.

The New York City Council is considering Intro 1425, the Carriage Horse Heat Relief Bill. Intro 1425 strengthens protections for carriage horses forced to work in extreme heat. We need your help to ensure this important bill is passed.

On Tuesday, June 4th, the Animal Legal Defense Fund and The Humane Society of the United States hosted their first joint California Humane Lobby Day. Nearly 100 animal advocates gathered in Sacramento to lobby legislators on five animal protection bills.