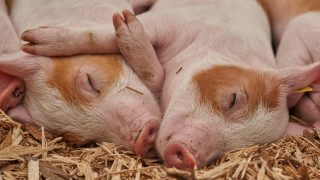 Animal Cruelty-Free Guide
One great way to help animals is by not purchasing products, or supporting industries, that cause animals harm. We can make a real difference in the treatment of animals with how we spend our dollars.
Purchasing cruelty-free products not only helps support good businesses. It also sends a strong message that kindness to animals is profitable, while harming animals is not.
Luckily, it's easier than ever to make these beneficial choices. We know that at the Animal Legal Defense Fund because all Animal Legal Defense Fund events are cruelty-free. That includes the cupcakes in our office kitchen, the meals we serve at animal law conferences and every other good that we buy and consume while doing our work on behalf of animals.
We've put together this guide to cruelty-free choices because every purchase you make, and every meal you cook, is another opportunity to make this world kinder for the animals we all love—and to put an end to businesses relying on cruelty to make a profit.
Healthy and Humane
Having a plant-based diet is good for animals, good for the environment and good for you. It's a win-win-win situation, all around.
Best of all, more and more those who choose to forego meat, dairy and eggs have plenty of terrific humane alternatives.
At the Animal Legal Defense Fund, we know how important it is to bridge the divide between environmentalism and animal advocacy: choosing a plant-based diet is an action everyone can take to help the planet and help animals.
The fact is that animal agriculture—by the sheer numbers—is the leading cause of animal cruelty in the world. In the United States alone, it's estimated that some 9 billion animals are killed each year for the meat, dairy and egg industries. Worldwide, that figure goes up to an estimated 56 billion animals. By and large, the conditions in which these animals are kept before they are killed, are horrific.
Choosing alternatives to meat, dairy and eggs, is therefore a key way to help animals.
Environmental concerns also recommend a plant-based diet. Our agricultural practices are not only a major source of pollution but also a leading factor contributing to climate change, as indicated by the 2014 IPCC assessment from the United Nations.
It's important to drive ecologically responsible cars, but a plant-based diet is an effective way to reduce our carbon footprint and preserve the natural world.
Need another reason to give up meat, dairy and eggs? Plant proteins also provide the healthiest diet. Animal-based diets mean higher cholesterol levels, more likelihood of food-poisoning incidents and an increased risk of heart disease and diabetes. It's for good reasons that so many professional athletes now sing the praises of their plant-based diets.
In short: Plant-based diets are better for animals, for our own health and for our planet. Luckily, those seeking out plant-based diets are rich with alternatives. We have tasty, nutritious cruelty-free foods to satisfy every palate—and the number of and quality of the options keep on expanding. Check out some of our recommendations in the shopping guide at the bottom of this page.
Our cruelty-free options don't stop with food. Cruelty-free clothes are also available for the conscious consumer, in lieu of animal-based materials like leather, wool, cashmere, silk or fur. Animal advocates can even choose personal and household products that have never been tested on animals and, again, options for cruelty-free products are increasing every year. This is thanks in part to the Animal Legal Defense Fund's innovative work with institutions like the Johns Hopkins University Center for Alternatives to Animal Testing.
Finally, instead of supporting activities that exploit animals, like marine theme parks, circuses, rodeos and roadside zoos, we encourage animal advocates to enjoy cruelty-free entertainment. Your choices matter, a lot—operations like Ringling Brothers and SeaWorld are changing their business models, or going out of business altogether, because consumers are refusing to spend hard-earned money to help corporations profit from cruelty.
Related
The Animal Legal Defense Fund has helped defend California's right to enact the strongest farmed animal protection law in the country

Proposed rule would maintain an unnecessarily complicated and confusing process for children to get access to plant-based milk

Cows were killed in Madison, Brazos, and Robertson Counties, Texas.