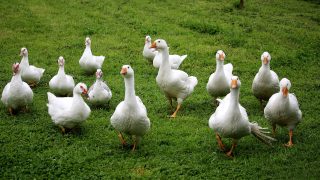 Foie Gras Banished from California Restaurants
The Animal Legal Defense Fund celebrates Supreme Court's refusal to take up case challenging state ban on the cruel product
Contact: media@aldf.org
San Francisco, CA – Today, in a landmark moment for ducks, the Supreme Court denied the foie gras industry's petition attacking the constitutionality of California's unique law banning the sale of foie gras. The high court's decision will let the Ninth Circuit Court of Appeals' mandate to go into immediate effect, prohibiting the cruel product from being sold in the Golden State.
The Supreme Court's action concludes foie gras proponents' 15-year crusade against the California animal welfare measure, a battle waged first in the legislature and then the courts. With the foie gras industry's last appeal now exhausted, the state ban on the production and sale of the cruel liver product is the undisputed law of the land, a development the Animal Legal Defense Fund extols.
The group has long campaigned against foie gras, a product made through animal torture. Together with a coalition of animal protection organizations, the Animal Legal Defense Fund filed numerous amicus briefs in the six-plus years of litigation, urging courts to uphold the law.
Foie gras' disappearance from California restaurant menus and purveyors' shelves is likely to spare thousands of ducks from terrible suffering on foie gras production facilities. Foie gras producers force-feed the birds until their livers swell to many times their normal size, inducing hepatic lipidosis, a painful and often fatal disease.
"The Animal Legal Defense Fund celebrates the death knell for the foie gras industry's long crusade against California's landmark law," says Animal Legal Defense Fund Executive Director Stephen Wells. "The suffering ducks endure to produce foie gras is intolerable and rightfully outlawed."
The Animal Legal Defense Fund is committed to ensuring the California law is followed, and to pursuing any restaurant or seller who would flout it. The organization will also now resume its legal action against La Toque, a Napa restaurant that purported to "give away" foie gras to skirt the ban, a stunt the California Court of Appeals deemed unlawful.
Related
The USDA fought to keep the numbers hidden from public view, ultimately paying $15,000 in attorneys fees in settlement

The Animal Legal Defense Fund filed a lawsuit against the United States Department of Agriculture (USDA) under the Freedom of Information Act (FOIA) over the agency's critical redactions in a contract between the USDA's Wildlife Services program and a Colorado slaughterhouse, outlining plans for slaughtering geese rounded up in parks across Denver.

The U.S. District Court for the Central District of California dismissed the industry's constitutional challenge in its entirety, and forbade the plaintiffs from trying to renew those claims.