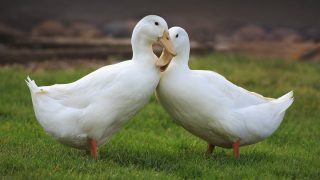 Animal Legal Defense Fund Applauds Court's Ruling: California Foie Gras Ban is Constitutional
We are thrilled with the court's decision affirming the constitutionality of California's foie gras ban and rejecting the foie gras industry's tired attacks against it.
The U.S. District Court for the Central District of California dismissed the industry's constitutional challenge in its entirety, and forbade the plaintiffs from trying to renew those claims. The court left open a narrow window for the challengers to try to substantiate their request that the ban not apply to out of state producers seeking to sell foie gras to California buyers.
California banned the sale and production of foie gras out of concern for the animals. Foie gras — French for "fatty liver" — is produced by force-feeding ducks or geese until their livers swell to many times their natural size, inducing a painful disease. The birds are then slaughtered so their diseased livers can be eaten.
California's ban has been subject to a prolonged legal challenge by the foie gras industry since lawmakers enacted a ban on the production and sale of foie gras in 2004. The law went into effect in 2012. In January 2019, the U.S. Supreme Court, for the second time, denied the industry's plea to take its case.
The foie gras industry responded by filing yet another amended complaint to challenge the constitutionality of the law. With today's decision, the court has delivered another victory for animals.
The Animal Legal Defense Fund will continue to monitor the case, and defend the foie gras law's constitutionality and broad enforcement.
Anyone who sees foie gras in California restaurants or stores is encouraged to report the sighting of illegal foie gras to the police, then submit the tip to the Animal Legal Defense Fund here: aldf.org/reportfoiegras
Related
Animals rescued from backyard slaughter operation near Fort Meyers, Florida are now headed to sanctuaries.

Restaurant Vows to Cease Foie Gras "Giveaways" Declared Illegal by Appellate Court.

California businesses alerted they must comply with the law banning sale of cruelly-produced "gourmet" delicacy
Celebrate the life of a special person or companion animal with a memorial gift to Animal Legal Defense Fund. Honor a person or companion animal by making a heartfelt gift in their name - a gift of love that will help ensure a better life for all animals.
Give A Memorial Gift