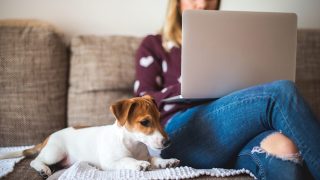 Webinars
Animal Law Academy
The Animal Law Academy webinars are an opportunity to hone your skills and gain both practical and substantive knowledge about important issues currently facing animals in the legal system. Participants will learn from the experts and enjoy an interactive Q&A session. Don't miss the chance to get an in-depth look into what it means to advocate for animals' through the legal system.
Animal Law Academy webinars are suitable for anyone interested in animal law, current and future law students, attorneys, legal professionals and animal advocates.
Upcoming webinars
Past webinars

Diane Balkin, senior staff attorney for the Animal Legal Defense Fund, will closely examine how "The Link" has been used in public policy arguments and legal cases alike to protect animals and humans from abuse.

In 2016, the Animal Legal Defense Fund became the first to successfully use the Endangered Species Act on behalf of captive animals held at Cricket Hollow Zoo in Iowa.

As 2019 approaches, we're looking back at our biggest legal victories for animals over the last 12 months. Join Stephen Wells, executive director of the Animal Legal Defense Fund, as he shares stories behind this year's biggest victories.

Join us for a free, interactive webinar to learn how you can easily incorporate animal law into your existing courses.

During this interactive webinar, Joyce Tischler will detail the lives of farmed animals and the laws (or lack thereof) that protect them.

David Casselman is a trial attorney who spent 10 years litigating pro bono against the Los Angeles Zoo in an effort to protect the elephants housed there.

Amanda Howell, staff attorney at the Animal Legal Defense Fund, will provide case overviews and updates on some of the biggest captive wildlife cases. These cases will include the Cricket Hollow Zoo, Tony the Tiger, Ben the Bear, and Animaland.

Carney Anne Nasser will walk attendees through common myths associated with captive wildlife. Topics will include zoos (including roadside zoos), private ownership, tourist attractions, and sanctuaries.
Related
The gift of more than $1 million will fund the program over the next four years

This action is for U.S. residents only.

The victory follows the passage of a factory farming law and efforts to curtail the construction of new mega dairies in the state