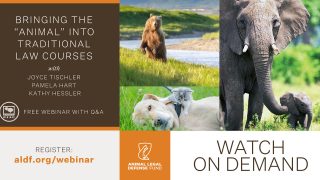 Bringing the "Animal" into Traditional Law Courses 2018
Presented 9/28/18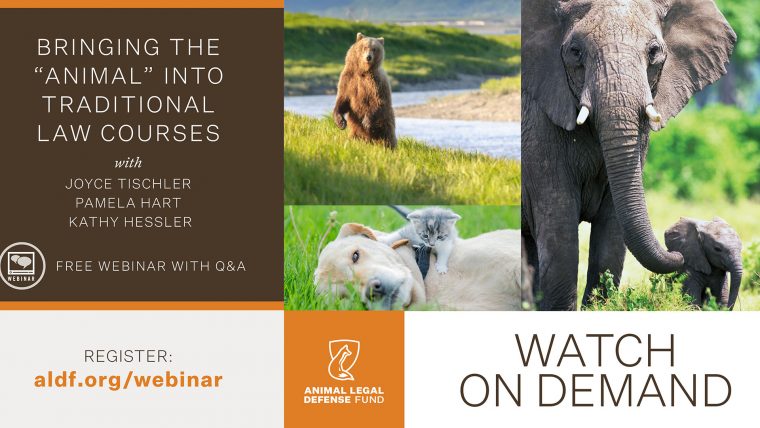 Join us for a free, interactive webinar to learn how you can easily incorporate animal law into your existing courses. The webinar will be led by the authors of Animal Law — New Perspectives on Teaching Traditional Law, a first-of-its kind casebook unique for its turnkey approach to adding animal law to "traditional" courses. The book adds a fresh perspective on the courses you are already teaching and introduces law students to the relevance of animal issues in a variety of areas including:
Constitutional Law
Contract Law
Criminal Law
Environmental Law
Property Law
Tort Law
Wills and Trusts Law
Law professors are encouraged to attend! The webinar is free, but space is limited.
For more information, please visit aldf.org/casebook.
Related
After multiple lawsuits filed and fought by the Animal Legal Defense Fund, the Tiger Truck Stop has finally stopped exhibiting animals and tore down its cages. The Tiger Truck Stop, the infamous gas station in Gross Tete, Louisiana, held Tony — an endangered Siberian-Bengal tiger — from the age of 6-months until his death at the age of 17 in 2017.

Today the Animal Legal Defense Fund announced a settlement agreement with the West Virginia State Police, State Trooper Seth Cook, and Colonel C.R. "Jay" Smithers, in a lawsuit filed after Tiffanie Hupp intervened when Officer Cook drew his gun and aimed it at the family dog, Buddy.

A series of billboards, in English and Spanish, are launching near slaughterhouses across the country — offering an online tip portal where industrial animal agriculture workers can report any concerns. Joaquin Phoenix partnered with the Animal Legal Defense Fund in offering and promoting ReportAnimalAg.com to allow individuals to remain anonymous.