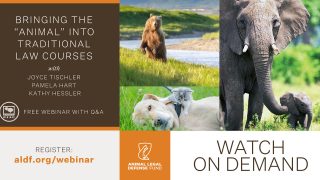 Bringing the "Animal" into Traditional Law Courses 2018
Presented 9/28/18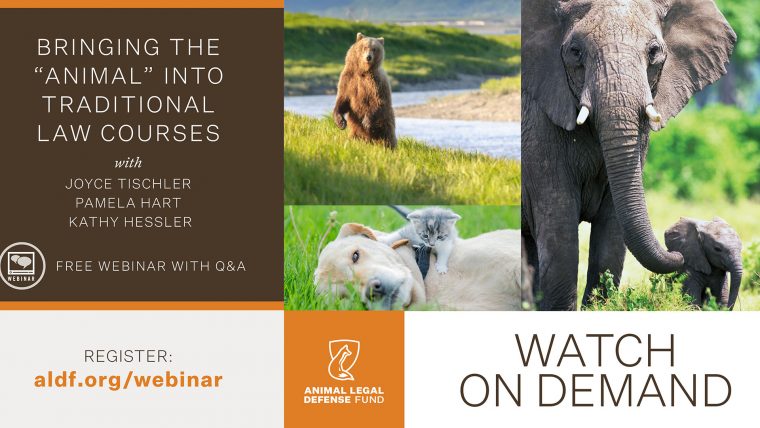 Join us for a free, interactive webinar to learn how you can easily incorporate animal law into your existing courses. The webinar will be led by the authors of Animal Law — New Perspectives on Teaching Traditional Law, a first-of-its kind casebook unique for its turnkey approach to adding animal law to "traditional" courses. The book adds a fresh perspective on the courses you are already teaching and introduces law students to the relevance of animal issues in a variety of areas including:
Constitutional Law
Contract Law
Criminal Law
Environmental Law
Property Law
Tort Law
Wills and Trusts Law
Law professors are encouraged to attend! The webinar is free, but space is limited.
For more information, please visit aldf.org/casebook.
Related
As the Animal Legal Defense Fund combats dogfighting by working with state officials to create stronger laws and more effective penalties for those who engage in this crime, we're also hard at work to ensure the best possible outcomes for dogfighting victims.

The Animal Legal Defense Fund, the nation's preeminent legal advocacy organization for animals, and Humane Rescue Alliance (HRA) are offering a $10,000 reward for information leading to the arrest and conviction of the person or people responsible for the abandonment and stabbing of a senior-aged dog named Ladybell on July 12, 2020.

Earlier this summer, the driver of a pig transport truck struck and killed longtime animal advocate Regan Russell. The circumstances regarding her death are not fully known to the public, but top to bottom, the animal agriculture industry is rarely held accountable.