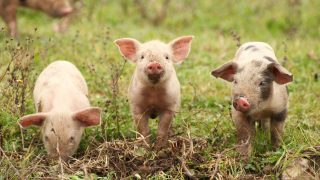 University of Houston: Helping Animals, Fighting Crime
The University of Houston Animal Legal Defense Fund Student Chapter has had its ups and downs this past year, but we have managed to stay focused on our primary objective – making the world a better place for all creatures – one step at a time.
This past February, while attending the Texas Dog Law Seminar with University of Houston Animal Legal Defense Fund Student Chapter member Lisa Baiocchi-Mooney, I was horrified by a dog-fighting video.
We immediately made contact with the presenter, Harris County Assistant District Attorney Belinda Smith (PDF). ADA Smith eagerly created positions for interested law students to work as student interns in her division, where her job is to prosecute animal crimes.
Lisa was the first member of our group to volunteer. She spent several weeks this summer working at the DA's office and even participated in some raids on animal hoarders, in joint efforts by the SPCA and the DA's office. I was invited to spend a day with ADA Smith and we attended a few court proceedings involving a wide range of issues, but mostly dog fighting.
In September, chapter members were gearing up as volunteers to help with a rabies vaccination clinic being held in conjunction with World Rabies Day. Unfortunately, just before the event our community was battered by Hurricane Ike and it had to be rescheduled.
Many areas were devastated, and nearly all of our members, fellow students and neighbors were adversely impacted. We had to work to get back on our feet, but many of us also helped in the local efforts to rescue abandoned and stray pets. That work continues today.
The Animal Legal Defense Fund Student Chapter of Loyola University in New Orleans generously reached out to offer us assistance (they remembered how hurricanes Katrina and Rita badly affected their community). They conducted a food drive for local shelters here in Houston and our thanks go out to them. We were finally able to hold the rabies vaccine clinic and Loyola University's Student Chapter members, Staci Stoller, Ada Ferrar, and Girard Couteau, all participated at the event.
Not only did we vaccinate pets, but we also helped educate the community about Animal Legal Defense Fund and its mission of protecting the lives and advancing the interests of animals through the legal system.
In October, University of Houston Animal Legal Defense Fund Student Chapter Secretary Danielle Raffield and I flew to Portland and attended the One Earth: Globalism and Animal Law conference at the Center for Animal Law Studies at Lewis and Clark. Our trip was partially funded by travel grants generously donated by Animal Legal Defense Fund and the University of Houston. This was an awesome event held on a beautiful campus.
Not only did we divide our efforts so we could attend all the panels, but we also had a chance to drive out to beautiful Multnomah Falls. We met some incredible speakers from all around the world and made some new like-minded friends in the process.
I am also pleased that our law school will again offer a course in Animal Law this fall, taught by Professor Amy Danna Bures. Professor Bures is a practicing attorney in Houston and a board member of the Houston Bar Association's Animal Law Section.
One other bright shining moment I would like to share is my invitation to, and attendance at, a reception held in honor of Harris County ADA Belinda Smith and many, many others for breaking up the largest dog fighting ring in history. Multiple arrests followed a 17-month investigation, by joint efforts of many organizations; it was truly an amazing accomplishment. We now have funding for people to report dog fighting to Crime Stoppers, and we helped create an aggressive marketing campaign to educate people that this is a serious crime.
Have a great spring semester!
This spotlight was submitted by Susan Pickle, President of University of Houston Animal Legal Defense Fund Student Chapter.
Related
These awards celebrate chapters that have shown incredible efforts in advancing animal law and advocating for animals through original projects and initiatives. Animal Legal Defense Fund Student Chapters are a vital part of the growing animal law movement.

These charges leave no doubt that the mistreatment of an aquatic animal can be taken seriously — while also raising important questions concerning these creatures' treatment under the law.

This year, for the first time in the event's long-running history, the Animal Law Conference dedicated a panel to showcasing law student work.