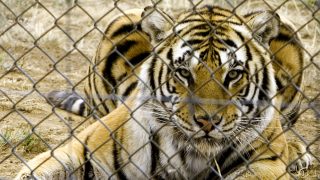 The Animal Legal Defense Fund Applauds Long Overdue Closure of 'Tiger King' Zoo, Urges Animals Be Transferred to Sanctuary
The Animal Legal Defense Fund applauds the closure of the Greater Wynnewood Exotic Animal Park, the zoo depicted in the Netflix documentary, "Tiger King," following the U.S. Department of Agriculture's (USDA) suspension of its owner's exhibitor license.
"While the facility owner's suspension is a good, though overdue, first step, the USDA should now permanently revoke the license," says Animal Legal Defense Fund Executive Director Stephen Wells. "The remaining animals, who have suffered for years at this zoo, should also be transferred to reputable sanctuaries equipped to handle their complex physical and psychological needs."
The USDA dragged its heels for years in addressing the facility's numerous and flagrant violations of the Animal Welfare Act. Animals at the zoo have endured squalid conditions as well as barren cages, rancid food, and untrained staff since its opening. Its previous owner, Joseph Maldonado-Passage, known as "Joe Exotic," also oversaw continuous breeding of big cats to provide cubs as photo props, who were discarded —sold or killed — when they became too large and dangerous to turn a profit.
The abuses at the Greater Wynnewood Exotic Animal Park are not unique. Similar facilities exist across the United States due to ineffective federal and state laws and lax enforcement.
Last year, the Animal Legal Defense Fund won a lawsuit against the USDA for its policy of "rubberstamping" exhibitor license renewals of facilities in violation of the Animal Welfare Act. Under new rules issued in 2020, facilities now need to prove they are in compliance with federal, state, and local laws for renewal.
To protect big cats and prevent abuses like those at the "Tiger King" zoo, the Animal Legal Defense Fund is working to pass the Big Cat Public Safety Act, sponsored by Representative Mike Quigley and Senator Richard Blumenthal, in Congress. The bill would prohibit the private ownership of big cats and dangerous public interactions with big cats such as cub petting.
Ask your members of Congress to prohibit the private ownership of big cats.
TAKE ACTION
Related
The court's decision ensures Special Memories Zoo is permanently closed following Animal Legal Defense Fund lawsuit

For decades, Fischbacher, with his business partner Roy Horn, ran an infamous Las Vegas show that forced white tigers and lions to perform tricks in front of large audiences.

Representatives Mike Quigley (D-IL) and Brian Fitzpatrick (R-PA) reintroduced the Big Cat Public Safety Act in the U.S. House of Representatives. The House of Representatives voted 272 to 114 to pass the same bill in December.