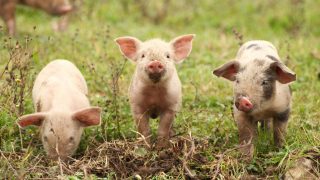 Spotlight: Abbey Barr
Abbey Barr is a 2020 recipient of the Animal Legal Defense Fund's Advancement in Animal Law Scholarship.
Abbey Barr is a 2020 recipient of the Animal Legal Defense Fund's Advancement in Animal Law Scholarship. This award honors students who demonstrate a commitment to the Animal Legal Defense Fund's mission: "to advance the interests and protect the lives of animals through the legal system." Recipients are actively involved in their Animal Legal Defense Fund Student Chapter while in law school and show promise in the field after graduation.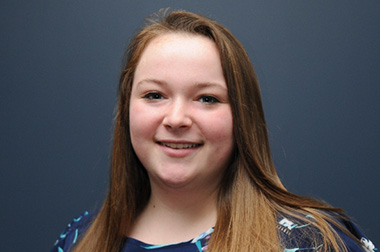 Abbey is entering her third year of law school at the University of Massachusetts School of Law where she will serve another term as President for the Student Animal Legal Defense Fund Chapter. She is also a member of the Criminal Law Society and the Larkin Senate of the Delta Theta Phi International Law Fraternity. Additionally, Abbey works at the circulation desk of the law library helping fellow students and members of the public to find the resources they need.
What Animal Legal Defense Fund student chapter activities are you proudest of and why?
The events that I am proudest of are the Justice for Farmed Animals trip and the Justice for Animals Panel. The trip to the sanctuary for farmed animals was a chance for law students to put the books down while still being able to learn about a major issue in animal law today—farming. There, we were able to meet and hear about the experiences of the rescued farm animals. This event was the first of its kind for the chapter and the law school. The Justice for Animals event hosted a Panel of animal rights attorneys, one being the Animal Law professor at the law school. This event was well received and attended by the students and faculty. The panel educated and inspired students on how they can become an advocate for animals.
Any other noteworthy experience?
In October, another executive board member and I traveled to Portland, OR for the annual Animal Law Conference organized by the ALDF. This was the first time any member of the chapter was able to attend this historic conference. After attending the conference, I was more inspired and excited about the field of animal law and how it intersects with many other areas of law than ever before.
What is an animal law related goal of yours for the upcoming academic year?
As the returning President in the upcoming year, I will continue hosting interesting and educational events involving animal law. Due to the pandemic, I hope to incorporate one of the following event ideas. One of the events I hope to plan is a panel with local legislators and senators that have been involved with crafting animal law legislation that has positively impacted the animals in the surrounding area. Another event I hope to plan is a panel to educate attendees about the protections for animals in the field ranging from K9 officers for police and jails to service animals for physical disabilities. Lastly, I hope to plan an event that hones in on animal cruelty, how to identify it, and how to report it. My overarching goal is to continue to spread awareness on animal rights and the importance of being an advocate for animals.
What are your plans/goals for post-graduation?
My goal for post-graduation is to start my career as a prosecutor and to work on animal cruelty cases when brought to court. Although the future is unknown, I plan to advocate for animals no matter which path my career may take. When I am able to, I hope to offer pro bono services for animal law cases to help those without a voice. Additionally, I plan to mentor the student chapter for many years to come. I want to be a resource for the chapter to call on if any member needs advice or assistance.
What is one piece of advice that you'd like to pass on to other Animal Legal Defense Fund student chapter leaders?
Collaborate with other student leaders. This can create unique events, interest in animal law, and networking opportunities with your fellow peers that you may not have otherwise connected with.
Learn more about the other 2020 Advancement in Animal Law Scholarship winners.
Recent News
Animal Legal Defense Fund's annual fundraiser to celebrate and strengthen our work to advance the interests of animals through the legal system.
Help animals win the legal protections they so desperately need and deserve, and ensure they have an advocate in courtrooms and legislatures across the country.
Take Action Now